FEARLESSLY FORWARD
Integrate Privileged Access Management Directly into Your RPA Workflows.
FEARLESSLY FORWARD
Integrate Privileged Access Management Directly into Your RPA Workflows.
WHY YOU NEED TO SECURE PRIVILEGED ACCESS FOR YOUR ROBOTS
SOFTWARE ROBOTS MIMIC HUMAN BEHAVIOR
RPA software interacts directly with critical systems and applications. To do this, software robots mimic human behavior and mirror human entitlements. Secure robots' privileged access the same way you secure human privileges.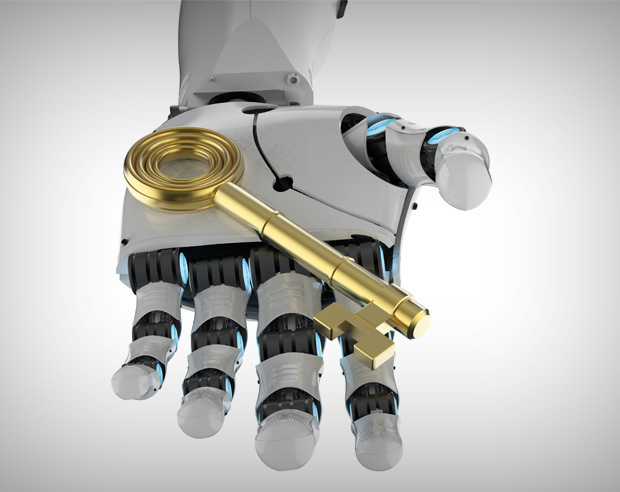 ROBOTS REQUIRE PRIVILEGED CREDENTIALS
Software robots need privileged access for system login, to access data or to move a process from step A to step B. Attackers can steal unsecured RPA admin and bot accounts and credentials to gain control of the robots.
RPA MAGNIFIES ATTACKS ON PRIVILEGED ACCESS
Organizations employ many software robots, sometimes hundreds or thousands, to access multiple systems and perform processes simultaneously. This increases the attack surface targeting privileged access and poses risk to the organization.
RPA ENABLES NON- TECHNICAL DEVELOPERS
RPA empowers non-technical users to record their work into an automated script at the UI level which has huge implications for security. "Citizen developers" may be unfamiliar with the need for privileged access management.
ROBOTS HAVE PRIVILEGES TOO.
DON'T LET SECURITY BE AN AFTERTHOUGHT.
You need to secure your robots' privileged access the same way you secure your human privileges.
RPA exacerbates the potential dangers of having unsecured privileged access and credentials due to:
Hundreds to thousands of software robots in a typical deployment
Software bots with access to business critical applications and Tier0 assets
The possibility of the RPA admin console being exposed to attacks
CyberArk enables you to reap the benefits of RPA solutions with security built directly into the RPA workflows.
READY TO SECURE RPA? CHECK OUT THESE GUIDES.
These top guides were picked by CyberArk RPA security experts to give you the knowledge and facts you need to speak with your business leaders about Privileged Access Management for your RPA workflows.
KEY SECURITY CHALLENGES IN RPA DEPLOYMENTS
KEY SECURITY CHALLENGES IN RPA DEPLOYMENTS
It's easy to overlook security when rolling out a new technology like RPA. Discover the implications of unprotected privileged credentials in RPA deployments.
THE POWER OF RPA AND THE SECURITY RISKS
THE POWER OF RPA AND THE SECURITY RISKS
Learn the vulnerabilities attackers seek out in RPA and how you can proactively secure, protect and monitor privileged credentials for RPA non-human user entities.
BEST PRACTICES TO SECURING RPA
BEST PRACTICES TO SECURING RPA
RPA is different from traditional business automation. See why PAM is critical to the scalability, efficient maintenance and the continued benefit of RPA.
PRIVILEGED ACCESS MANAGEMENT FUNDAMENTALS
PRIVILEGED ACCESS MANAGEMENT FUNDAMENTALS
Understand what Privileged Access Management is all about with this quick read. Recognize and articulate the need to mitigate privileged access security risks.
SEE CYBERARK IN ACTION
You cannot stop attacks on privileged credentials, but you can render them ineffective with a PAM Solution from CyberArk.
PRIVILEGED ACCESS MANAGEMENT FUNDAMENTALS
In the wrong hands, privileged credentials can cause catastrophic damage. They need to be protected, managed and monitored. Here are resources to help you learn Privileged Access Management (PAM) fundamentals, understand the technology and navigate the PAM industry landscape.
CORE PRIVILEGED
ACCESS SECURITY
Privileged access is the gateway to your most valuable assets and applications. You need the right tools to execute a successful PAM program. Audit your privileged accounts and understand the tools necessary to manage, protect and monitor privilege.
ANALYST
RECOMMENDATIONS
Read why industry analysts and security experts recommend prioritizing Privileged Access Management. Discover why CyberArk is continuously rated as the top Privileged Access Management vendor and what that means for you.
PRIVILEGED ACCESS
SECURITY USE CASES
PAM pioneer and market leader, CyberArk is a trusted choice for 4,400+ customers globally. We have the industry's broadest portfolio of use cases and integrations and a family of happy customers. Find out how your peers use CyberArk.
ADVICE FROM
THE FIELD
Learn about Privileged Access Management: listen to customer stories; discover real-life use cases; learn about features and implementation and dive deeper on scalability, stability and deployment. Be prepared to start a PAM conversation with your management!
LEARN FROM REAL-LIFE EXAMPLES
Fortune 100 Insurance Company Implements CyberArk to Secure the RPA Deployment.
VISIT CYBERARK MARKETPLACE TO VIEW RPA SECURITY INTEGRATIONS
READY TO TAKE THE NEXT STEP?