"RAISING THE BAR FOR RPA SECURITY"
Integrate Privileged Access Management Directly into Your RPA Workflows.
"RAISING THE BAR FOR RPA SECURITY"
Integrate Privileged Access Management Directly into Your RPA Workflows.
PRIVILEGED ACCESS MANAGEMENT FOR RPA
Boost the Security of Your RPA Workflows.
THE BENEFITS OF RPA ADOPTION ARE SIGNIFICANT1
86%
IMPROVED PRODUCTIVITY
90%
IMPROVED QUALITY AND ACCURACY
92%
IMPROVED COMPLIANCE
1Deloitte Global RPA Survey, 2018
HOW SECURE ARE YOUR SOFTWARE BOTS?
RPA technologies increase the speed of standardized tasks, reduce compliance risk with simplified audit, enable employees to focus on more value add projects and, most importantly, deliver scalable cost efficiency. However, if the accounts and credentials leveraged by both RPA admins and this new digital workforce are left unsecured, an attacker can steal them and gain access to your most critical systems, applications and data.
SECURITY AT THE PACE OF AUTOMATION
The adoption of RPA technology introduces a new attack surface for both human and non-human identities, opening up the enterprise to the damaging effects of a data breach. CyberArk Privileged Access Security enables organizations to reap the benefits of RPA solutions with security built-in directly to an enterprise's RPA pipeline.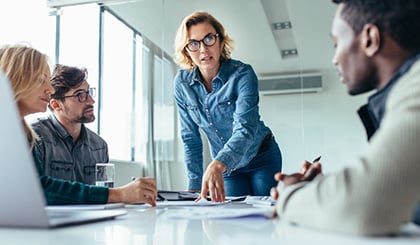 FOR SECURITY
Centrally secure and manage both RPA administrator and software robot accounts and credentials in a secure digital vault.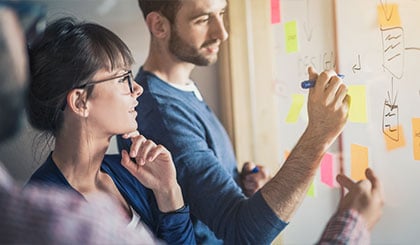 FOR OPERATIONS
Seamlessly integrate RPA tools and solutions directly into CyberArk infrastructure and management policies across the enterprise.
FOR AUDIT
Establish individual user accountability with a comprehensive audit of all privileged RPA activity for compliance and forensic analysis.
SEE WHAT OUR CUSTOMERS HAVE TO SAY
As we progress along this digital transformation journey, it has never been more important to align security and risk postures across new tools and technologies.
CVP PAM and Access Management
Blue Prism and CyberArk enable best-in-breed credential management and more secure deployments, while providing easier integration into existing procedures and management policies for clients who already have the CyberArk infrastructure in place.
Automation Anywhere and CyberArk enable secure retrieval of the credentials needed for robots to perform their functions. In addition to securing these credentials, CyberArk can rotate them to ensure that you stay in compliance with corporate policies and industry guidelines.
UiPath Orchestrator with CyberArk enables you to store Windows Login Credentials securely. Our Robots retrieve, through the Orchestrator, the Windows Login Credentials needed for performing automations in a secure manner.
View All RPA Security Integrations