SICUREZZA ALLA VELOCITÀ DEI DEVOPS
Available in Open Source and Enterprise Editions
BENEFITS - DEVOPS AND CONTAINERIZED ENVIRONMENTS
Secure non-human and human privileged access across containerized and DevOps environments.
PER I TEAM DI SICUREZZA
Consistently manage and audit application credentials and privilege across DevOps and containerized environments and for the DevOps administrators assigning privilege.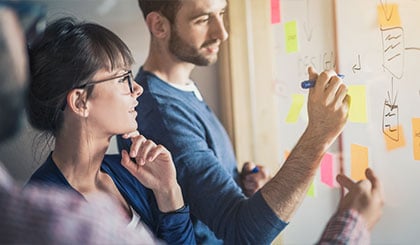 PER LE OPERATION
Support massive scale and deployment flexibility to cloud, hybrid or on-premises environments by leveraging an elastic, container-based architecture.
PER GLI SVILUPPATORI
Simplify securing application credentials by leveraging integrations with CI/CD toolsets and container platforms. Accelerate developer access with Open Source solutions.
APPLICATION ACCESS MANAGER FOR DEVOPS OVERVIEW
Application Access Manager for DevOps and the Conjur Open Source solution for DevOps each integrate with popular tools and container platforms to provide a comprehensive solution for security secrets and other credentials in DevOps environments.
DEVOPS-FOCUSED CAPABILITIES
Automatically secure and manage credentials and secrets used by non-human identities and human users throughout the pipeline and containerized environments.
MANAGE
APPLICATION SECRETS
Secure and manage secrets and other credentials used by applications, container platforms, automation tools and other non-human identities.
SECURE TOOL CONSOLES
AND HUMAN USERS
Manage and monitor human and non-human access to CI/CD tool chain management consoles. Simplify access to privileged resources by human users.
ENSURE ROBUST
AUTHORIZATION AND AUDIT
Authenticate applications and containers using native application attributes and role-based access controls. Record key events with tamper-resistant audit.
MEET ENTERPRISE
SCALE CAPABILITIES
Meet stringent enterprise resiliency, scalability, and performance requirements with a distributed, high-availability architecture.
SIMPLIFY
PARTNER INTEGRATION
Accelerate deployments by leveraging validated integrations with leading CI/CD toolsets, PaaS/container platforms, and with existing security systems including AD/LDAP and SIEM.
LEVERAGE CYBERARK
SOLUTIONS PORTFOLIO
Consistently secure privilege across the entire enterprise, including for DevOps, applications, container platforms and other non-human credentials, as well as for all human privilege.
CONFRONTO TRA I PRODOTTI
APPLICATION ACCESS MANAGER FOR DEVOPS AND CONJUR OPEN SOURCE OVERVIEW
Application Access Manager and Conjur Open Source each integrate with popular tools and container platforms to provide a complete solution for securing secrets and other credentials in DevOps environments.
Application Access Manager for DevOps is part of the Application Access Manager solution which can control, manage and audit non-human privileged access for all application types across all environments.
Application Access Manager for DevOps offers integration with the CyberArk solution portfolio enabling non-human and human credentials to be consistently managed across an enterprise's entire environment.
CONJUR OPEN SOURCE
GESTIONE DELL'ACCESSO ALLE APPLICAZIONI
GESTIONE DEI SEGRETI
Vault dei segreti (certificatI, password, chiavi API, chiavi SSH, token)
Rotazione delle password
Cronologia e versioni delle password
Audit a prova di manomissione ed esportazione dei dati di audit
Controlli di accesso basati su ruoli
Workflow basato su policy
GESTIONE SICURA DEGLI STRUMENTI CI/CD
Supporto della gestione della configurazione (Ansible, Puppet)
Supporto del server CI (Jenkins)
Terraform
PAAS (PLATFORM AS A SERVICE) SICURO
Integrazione con Kubernetes/OpenShift
Integrazione con Cloud Foundry/Pivotal Cloud Foundry
SUPPORTO DI CONTAINER E SCALABILITÀ AUTOMATICA
Orchestrazione di container
Autenticazione avanzata dei container
Scalabilità automatica delle applicazioni
INTEGRAZIONI CLOUD
Esecuzione sulle principali piattaforme cloud
Autenticatore IAM AWS
MATURITÀ AZIENDALE
Interfaccia di amministrazione Web e dashboard delle attività
Autenticazione AD/LDAP
Sincronizzazione AD/LDAP
Integrazione SIEM
Integrazione con CyberArk Privileged Access Security Solution
Supporto di disponibilità elevata (HA) e disaster recovery (DR)
Scalabilità automatica elastica dell'infrastruttura
Implementazione di più data center
Supporto del modulo HSM (Hardware Security Module)
GESTIONE CENTRALIZZATA DEI SEGRETI
Replica e aggiornamento automatici dei segreti da CyberArk Enterprise Digital Vault
Attivazione della gestione centralizzata dei segreti con un unico punto di controllo
Estensione della sicurezza degli accessi privilegiati di CyberArk agli ambienti DevOps, cloud e container
GESTIONE LICENZE
Open Source
Licenza in abbonamento
OPZIONI DI IMPLEMENTAZIONE
Immagine Docker
Amazon AMI
AWS Marketplace
GCP Marketplace (Kubernetes Engine)
CLIENT API
Java, Python, Ruby, Go
API REST
Client CLI
SUPPORTO
Supporto della community
Supporto in orario lavorativo o 24x7
INTEGRAZIONI
Funziona con la toolchain DevOps che il team di sviluppo conosce e apprezza.
MARKETPLACE
Estendi la sicurezza degli accessi privilegiati nell'intera azienda con integrazioni di CyberArk e dei nostri Partner.