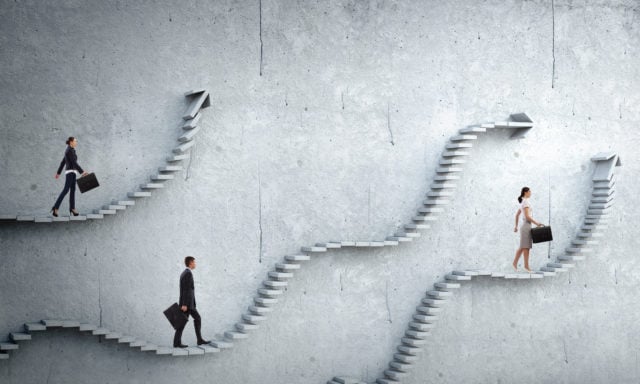 October is Cyber Security Awareness Month, and this week's focus is on establishing or building a career in cyber security. There are many paths to consider. People find their way to careers in cyber security from a wide variety of backgrounds. At CyberArk, we have employees with backgrounds in finance, law, systems administration, operations and much more. In fact, many who took a less direct route to their career in cyber security find that the skills they learned along the way are the ones they depend on while working at CyberArk. In this article, we'll profile three employees.
Noam Liran, National Manager of Federal Engineering and Customer Success at CyberArk, started his career in corporate finance, completed law school and then became a cyber security professional. He credits the perspective on business he got from his corporate finance career and the communication skills from his time at law school for his success in cyber security.
"Critical problem solving is often more important than ones and zeros," Liran said. He works with CyberArk's customers, educating them on CyberArk's products, matching their needs to effective solutions, troubleshooting technical issues and acting as the customer's main technical point of contact. He explained that when he addresses a room at one of his client's offices, he's dealing with a diverse group of people from both technical and business backgrounds.
He said, "You need to be able to address questions from different professionals. It's hard to do if you can't relate to them and answer with a level of detail and information that resonates with them." His background in business helps him connect to the business professionals in ways someone from a straight engineering background often can't. Liran said, "If you're focused only on engineering, you lose track of what is important from a business perspective." Liran's diverse experience lets him speak to business or technical professionals in their own language.
Communication is key when it comes to working with customers to develop their cyber security capabilities. Liran's time at law school helps him there. One of the biggest lessons of law school, according to Liran, is effective communication. A lawyer needs to be able to speak clearly and concisely to a wide variety of people while under pressure. From this, Liran learned how to address people from many different backgrounds, keep clients' attention and answer even the trickiest of questions.
Liran doesn't think that a cyber security or computer science degree is the most important thing for a cyber security professional. He said, "The ability to bring in both technical knowledge and communication skills is an effective combo that can make anyone successful."
Liran stays in cyber security because he's "making a difference." He said, "I'm helping someone secure their environment, mitigate risk and lessen the impact of a breach to maintain an operational business and avoid disruptions for customers."
Jeff Vealey, Customer Success Security Adviser at CyberArk, also loves his job in cyber security because it helps him to protect people. He said, "I really enjoy watching any spy or CIA show. I've always wanted to see how the CIA does things. I think that's the epitome of security."
Vealey came to cyber security from a career in network operations. He got involved in technology because no one else at his company had technical skills. Figuring out how to implement security at that company was his "trial by fire." Vealey assists customers around the world, providing guidance on cyber security, solving security problems and helping companies to implement cyber security solutions. With his love of CIA shows, he's made his specialty helping the federal government.
Vealey said that he sees "curiosity" as the most important trait for a cyber security professional. Curiosity about how things work is part of what makes him good at his job. He said, "I also love to tinker. I like to see if something works; if I throw something at it from another angle, will it still work?"
According to Vealey, cyber security is an exciting field to join now. He said, "It's a hyper-growing field. There will always be a need for security since someone is always trying to get around it."
His advice to anyone looking to enter cyber security is: "Don't be afraid to start in operations." He explained that cyber security can be a part of any operations job, providing hands-on experience in cyber security programs. Vealey added.
Andy Thompson, National Manager for Customer Success at CyberArk, got hands-on experience with cyber security working in operations and as a systems administrator before he became a cyber security professional. Now, he works with clients, helping them to implement privileged access security solutions, providing guidance on security best practices and consulting on IT risks.
Thompson credits his time as a systems administrator for his success in cyber security. He said, "My time 'in the trenches' provides me with credibility. I can relate to the challenges clients deal with because I faced those challenges myself. I feel like it allows me to understand how clients function internally and how to ask the right questions. My experience as a sysadmin is one of the reasons customers view me as a trusted adviser instead of just another vendor."
Thompson recommends that anyone interested in becoming a cyber security professional, no matter their background, reach out and look for mentors. He said, "My career has been influenced by several people who took an active interest in me and I too have done the same." He added, "The InfoSec community has always been willing to teach the willing."
Now is a good time to get involved with cyber security. Thompson said, "Let's face it, there will always be a need for InfoSec professionals in these crazy times."
Privileged access security management is a sought after skill set. If you're interested in learning more, CyberArk offers free training and cyber security resources. You can also check out careers at CyberArk here.