CyberArk partners with Synechron to strengthen security and improve user access
CyberArk has partnered with Synechron to provide significant security improvements and manage and protect digital user identities and privileges, helping them earn a top 40 ranking in Forbes' "Most Cybersecure U.S. Companies."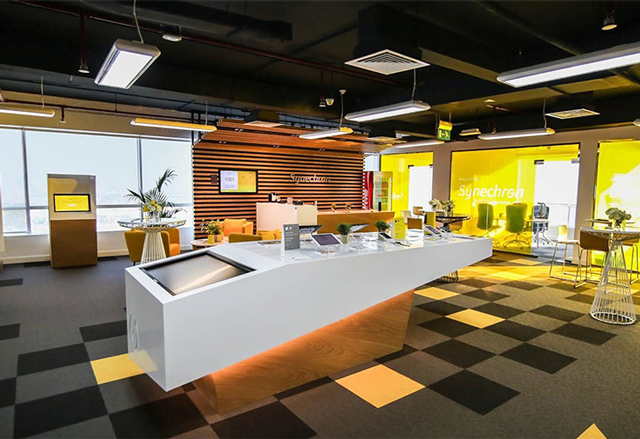 Company profile
Synechron is a leading global digital transformation consulting firm. It combines creativity and innovative technology with an AI-driven approach to deliver industry-leading digital solutions for the financial services sector. The company's self-funded FinLabs R&D center develops modernization solutions, including blockchain and AI, data science models, digital and mobile-first applications, and more. Synechron has a global workforce of more than 14,500 employees, operating from 44 offices in 19 countries.
Employees: 14,500
Challenges
The shift from on-premises and physically protected systems to an AI-driven approach, primarily using cloud and SaaS applications, has caused Synechron's identities to increase in scope and scale. These identities are under threat, as malicious actors conduct internet and web-based attacks that include phishing for email addresses and passwords, in order to gain access to its IT environments.
Previously, Synechron's approach to securing identities was manual and time consuming. Different levels of access were provided depending on users' roles. Password vulnerability, human error and tougher compliance prompted Synechron to look for a comprehensive identity security solution centered on privileged access management. Since Synechron has a broad range of applications, from widely used web-based apps to numerous custom applications, it needed a comprehensive solution to reduce the password attack surface, protect access credentials and monitor web sessions.
Solutions
Synechron conducted a thorough evaluation exercise to strengthen its identity security posture. It concluded that CyberArk's intelligent privileged controls best aligned with its AI-driven information security strategy. Furthermore, Synechron found that CyberArk met all of its use cases, such as securing and streamlining privileged access for its IT users and business users by using one unified platform and protecting its most complex applications. The flexibility of the CyberArk Identity Security platform meant the company could quickly and easily onboard and apply adaptive and contextual privilege controls, to any type of user and any application, whether it's legacy, custom, web-based, hosted on-premises, or in the cloud.
CyberArk's Adaptive Multi-Factor Authentication (MFA) now strengthens Synechron's user access and identity verification controls using a dynamic access policy that leverages multiple data points, such as 'user risk', 'application type', 'location' and 'time-of-day'. Driven by user behavior analytics, the Adaptive MFA solution analyzes all access requests and requires secondary authentications in response to contextual data, indicating risky login activity. In tandem, CyberArk Single Sign-On enables Synechron to provide secure and frictionless access to its workforce.
Results
Synechron now provides secure and frictionless single sign-on access, leveraging contextual-based authentication controls to keep track of user activity. This level of user experience and visibility help the company to enable operational efficiencies, continuously reduce risk and showcase compliance. Protected privileged access ensures the company's data and systems are secure and that identity integrity is maintained.
Operations are more efficient, as on- and off-boarding of users is done quickly and centrally, with activity monitored automatically and a variety of easy to produce reports available. Productivity has increased significantly: processes that used to take up to two days are now completed in minutes.
Synechron also uses CyberArk to onboard its legacy applications and protect on-premises and SaaS applications, using intelligent privileged controls. It can now set the appropriate security layers to protect its business and customers, all while providing seamless business access to its users' targeted systems and data.
"As a key part of our cybersecurity program, CyberArk's platform is the cornerstone of our cybersecurity program, helping us to protect sensitive data. By controlling and monitoring privileged access, we've mitigated the most significant cybersecurity risks. This, in turn, ensures the integrity and security of our critical systems and data."
– Umesh Bhapkar Senior Director of Systems, Synechron
CyberArk has become a significant component in Synechron's drive to strengthen its reputation as a safe and secure business, an achievement underpinned by the company rising to #40 out of 200 in the Forbes America's Most Cybersecure Companies, 2023.
Key benefits
Significant improvements in productivity
Defends Digital identities against modern and advanced security attacks
Helps meet our most stringent info security compliance requirements and auditing regulations
Improves security by protecting identities and providing better visibility
Reputational enhancement
Understand the key components of an Identity Security strategy
Get a first-hand look at CyberArk solutions
Identify next steps in your Identity Security journey