ENDPOINT PRIVILEGE MANAGER
Implementa i privilegi minimi, il controllo delle credenziali e la protezione del furto delle credenziali su vasta scala.
VANTAGGI
Reduce the risk of unmanaged admin access on endpoints
PER LA SICUREZZA
Implement least privilege to ensure Windows and Mac users only operate with the permissions they need to contain malware and other threats.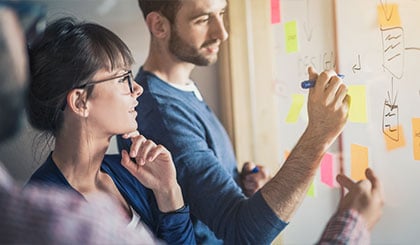 PER LE OPERATION
Improve endpoint stability and reduce the cost of unmanaged admin access with minimal end-user friction.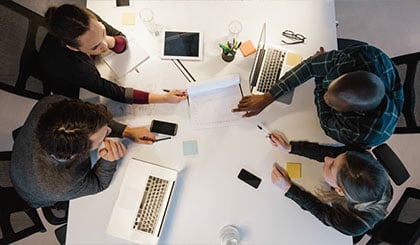 PER LA CONFORMITÀ
Meet internal policy and regulatory requirements with comprehensive reporting and a searchable audit trail of permission elevations.
PROTEZIONE DEI PRIVILEGI E CONTENIMENTO
DEGLI ATTACCHI A LIVELLO ENDPOINT
L'applicazione della sicurezza dei privilegi a livello endpoint è una parte fondamentale del programma di sicurezza, ma farlo potrebbe compromettere la produttività di utenti e helpdesk. Questo breve video illustra come CyberArk Endpoint Privilege Manager contribuisce a rimuovere questa barriera, aggiungendo un livello di protezione critico per rafforzare la sicurezza degli endpoint esistente e consentendo di contenere gli attacchi a livello endpoint.
FEATURES: ENDPOINT PRIVILEGE MANAGER
Lock down privilege on the endpoint and prevent lateral movement.
Remove and manage local admin rights on Windows workstations, servers, and Macs to prevent lateral movement. Enable just-in-time elevation and access with full audit of privileged activities.
Endpoint Privilege Manager is designed to prevent attacks that start at the endpoint by removing local admin rights on Windows workstations, servers, and Macs. Endpoint Privilege Manager allows just-in-time elevation and access on a by-request basis with a full audit of privileged activities. Full admin rights or application level access can be granted; access is time limited and can be revoked as needed. Endpoint Privilege Manager helps organizations protect against threats that take advantage of unmanaged local admin access with minimal impact to the end-user.
Detect and block suspected credential theft attempts on Windows workstations and servers. Protect OS, browser and file cache credential stores.
Credential theft plays a major part in any attack. Endpoint Privilege Manager's advanced credential theft capabilities helps organizations detect and block attempted theft of Windows credentials and those stored by popular web browsers and file cache credential stores.
Automatically block malware including Ransomware from running. Reduce configuration drift on endpoints with minimal end user impact.
With Endpoint Privilege Manager's Application Control capabilities, IT operations and security teams can allow approved applications to run while blocking malware, including Ransomware. Unknown applications are able to run in 'Restricted Mode' which prevents them from accessing corporate resources, sensitive data or the Internet. These applications can also be sent to Endpoint Privilege Manager's cloud-based Application Analysis Service, which integrates with data feeds from CheckPoint, FireEye, Palo Alto Network, and other services for additional analysis. The solution reduces security risk and configuration drift on endpoints while reducing help desk calls from end users. Based on testing by CyberArk Labs, the removal of local administrator rights combined with application control was 100 percent effective in preventing ransomware from encrypting files.
Avevamo bisogno di gestire tre requisiti di sicurezza in una prospettiva globale: privilegi minimi, gestione delle patch e controllo delle applicazioni. CyberArk si occupa di due di questi tre aspetti per noi, e lo fa in modo eccellente... CyberArk Endpoint Privilege Manager ci aiuta a sciogliere la maggior parte dei dubbi sui componenti da installare e ci permette di creare un ambiente più sicuro.
Laura Melton – Senior Information Technology Associate, College of Architecture, Texas A&M University
IL ROMPICAPO DELLA SICUREZZA DEGLI ENDPOINT
Dove si colloca la gestione dei privilegi?
ENDPOINT DETECTION & RESPONSE
Detect and respond to advanced active attacks on endpoints.
ANTIVIRUS/NGAV
Prevent malware infection using a variety of techniques.
GESTIONE DEI PRIVILEGI
Manage local administrator rights while maintaining user productivity.
APPLICATION PATCHING
Apply application updates to address security issues.
OS PATCHING
Provides OS level security bug fixes.
MARKETPLACE
Estendi la sicurezza degli accessi privilegiati nell'intera azienda con integrazioni di CyberArk e dei nostri Partner.