Application security & automation with Red Hat
Automate and secure your DevOps pipelines by shifting security left. See how CyberArk works hand-in-hand with RedHat Ansible and OpenShift platforms.
Shift left and secure DevOps
CyberArk and Red Hat continuously collaborate on joint solutions to make DevOps more secure and agile. Our joint imperative is to secure the CI/CD pipeline by supporting the "Shift Left" movement and providing more secure approaches earlier within the DevOps cycle.
Explore our joint relationship
See how you can benefit from our collaboration and integrations.
Leading insurance company
"We liked how easy it was to manage secrets on Red Hat OpenShift using CyberArk's secrets management platform."
~ Large North American Insurance Company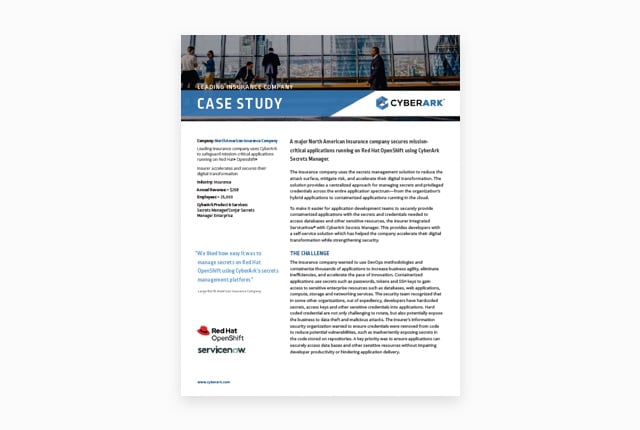 "CyberArk is a valued partner to Red Hat, and we are pleased to honor them with this well-deserved award. We look forward to our continued relationship with CyberArk and helping them provide best-of-breed security solutions to our joint customers using Red Hat open source technology."
~ Chris Gray, Vice President, North America Strategic Alliances, Red Hat