LIFECYCLE MANAGEMENT
Provision access and manage entitlements throughout your users' lifecycle with CyberArk Identity Lifecycle Management.
FROM OFFER ACCEPTANCE TO THE EXIT INTERVIEW
Automate user access provisioning, approval workflows and access governance.
Automate
Dynamically provision and revoke access to pre-integrated cloud applications.
Self-Service
Allow users to request access and define approval workflows.
Govern
Drill down to the user, role, or application level to audit accounts, entitlements, devices, and more.
LIFECYCLE MANAGEMENT FOR PRIVILEGED USERS
Integrate with your Identity & Governance Administration (IGA) provider or use CyberArk for Access Governance tasks. With Lifecyle Management for Privileged Users, you can onboard new employees whose access is secured by CyberArk PAM, improve productivity with self-service tools and simplify compliance by leveraging access re-certifications and comprehensive reporting capabilities.
Approval Workflows
Automate workflows to accelerate provisioning and ensure employees are productive sooner
Streamlined Provisioning
Provide and revoke access to privileged resources at every stage of the employee lifecycle
Access Certifications
Set up periodic reviews of privileged user access to ensure access is approved and appropriate with Identity Compliance
Comprehensive Reporting
Create in-depth reports capturing access to privileged resources to simplify compliance
HCM SYSTEM INTEGRATION
Unify your provisioning and HR workflows.
Import identities and user attributes from pre-integrated HR systems
Maintain an HR-driven primary system of record for user data
Create custom provisioning and deprovisioning workflows
SIMPLIFY THE PROVISIONING LIFECYCLE
Complete employee identity lifecycle management from onboarding through termination.
EVERY STEP OF THE WAY
Ensure employees have access to the right set of applications at every stage of their lifecycle.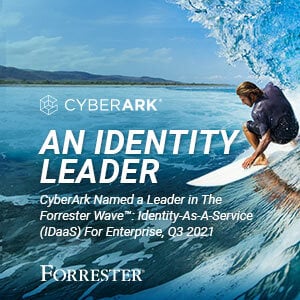 CyberArk named a leader in IDaaS
CyberArk has been named a Leader in The Forrester Wave™: Identity-As-A-Service (IDaaS) For Enterprise, Q3 2021.
IDENTITY SECURITY THAT KNOWS YOU BUT DOESN'T SLOW YOU
Explore all the ways CyberArk gives you peace of mind to move fearlessly forward.
AD, LDAP, Google Cloud Directory, and CyberArk Identity Cloud Directory synchronization
AD Synchronization and license management for Office 365
Governance and Compliance
Self-service app request and approval
Create, update, and deactivate accounts in applications
Ultimate Software's UltiPro
AD, LDAP, Google Cloud Directory, and CyberArk Identity Cloud Directory synchronization
AD Synchronization and license management for Office 365
Governance and Compliance
Self-service app request and approval
Create, update, and deactivate accounts in applications
Ultimate Software's UltiPro
AD, LDAP, Google Cloud Directory, and CyberArk Identity Cloud Directory synchronization
AD Synchronization and license management for Office 365
Governance and compliance
Self-service app request and approval
Create, update, and deactivate accounts in applications
Ultimate Software's UltiPro
Automate provisioning and deprovisioning
Connect IT and HR workflows
Streamline Office 365 deployments
Centrally manage and govern identities and entitlements