CyberArk is the trusted leader in Privileged Access Security, with the majority of Fortune 100 companies relying on our solutions to protect their most critical and high-value assets.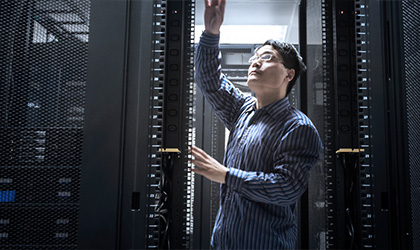 ENDPOINT
PRIVILEGE MANAGER
Effectively Reduce Risk of Endpoint Attacks
NEW PRIVILEGED SESSION
MANAGER FOR CLOUD
3X Faster Connection to Cloud and Web Apps
SECURITY THAT WORKS
AT DEVOPS VELOCITY
CyberArk Conjur is Now Available via Open Source
WHY CYBERARK
Recognized for establishing the Privileged Access Security category, CyberArk delivers the industry's most complete solution to reduce risk created by privileged credentials and secrets.
OUR CUSTOMERS
STAY ONE STEP AHEAD
CYBERARK IN THE NEWS
We recently hosted a webinar, with special guest Chris Condo of Forrester Research, to help security professionals better understand the challenges developers face in the lightning-fast paced DevOps world – and  to explain how they…
As founder and CTO of Vaultive, I've worked closely with a team of brilliant engineers over the past 10 years to address the most pressing security issues that prevent enterprises from fully realizing the promise…
October is Cyber Security Awareness Month, and this week's focus is on establishing or building a career in cyber security. There are many paths to consider. People find their way to careers in cyber security…
Combines Powerful Analytics with Secure, Transparent Access and the Ability to Quickly Alert on Risky Privilege-Related Activity NEWTON, Mass. and PETACH TIKVA, Israel – October 15, 2018 – CyberArk (NASDAQ: CYBR), the global leader in privileged…
Second quarter total revenue of $77.7 million increases 35% year-over-year GAAP operating income of $7.0 million and non-GAAP operating income of $17.0 million Cash flow from operations of $56.2 million increases 90% year-over-year Deferred revenue…
Protects Against Insider Threats and External Attacks Across ERP Systems NEWTON, Mass. and PETACH TIKVA, Israel – August 2, 2018 – CyberArk (NASDAQ: CYBR), the global leader in privileged access security, today announced the availability of…
Using CyberArk has made our security organization analyze how privileged accounts are utilized and can be compromised. More importantly, through the management of the privileged access life cycle, we are continually taking steps to keep our secrets secure utilizing CyberArk.
– Lead Security Specialist, Fortune 500 Financial Services Company
DON'T GO IT ALONE
CyberArk has created an expansive partner ecosystem of technology vendors, solutions integrations and channel partners to help your organization tackle the most complex security challenges
Technology Alliance Partners
Building on the power of privileged account security to better protect customers from cyber threats.
Advisory and Channel Partners
CyberArk's channel partner community helps customers around the world secure their privileged accounts.
STAY ONE STEP AHEAD
Up your security IQ by checking out our collection of curated resources including ebooks, webinars and videos covering a wide-range of security topics.