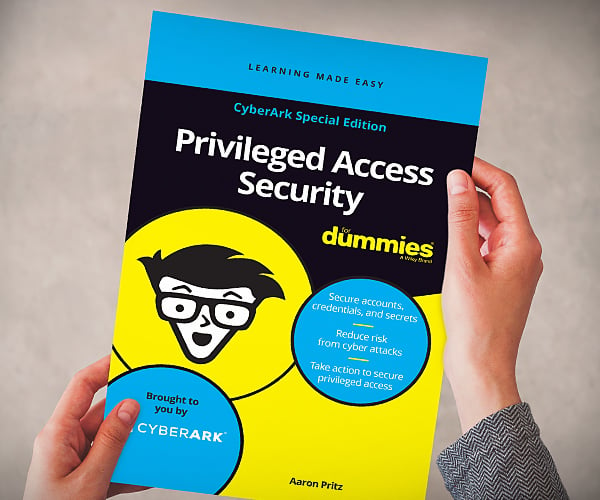 You know that protecting privileged access is paramount in your cybersecurity strategy. But how do you go about selecting the right solution from the right provider? The "Privileged Access Security for Dummies" eBook is the guide you've been looking for. Full of actionable tips, technical insight and lessons learned, the eBook delves into the three critical steps to take as you evolve your cybersecurity strategy. The following is a quick look at these recommendations. For full details on what to expect and what to look for as you evaluate potential privileged access management solutions, download a free copy of the eBook today.
Determine where automated tools and services will help you most. Protecting, managing and monitoring privileged access manually can be a tedious, resource-intensive process. It's nearly impossible for a large organization to manage and protect the thousands of privileged accounts, credentials and secrets used throughout its on-premises, cloud and DevOps environments without automation.
An industry survey revealed that more than half of enterprises (55 percent) see an excess of 10,000 security alerts per day – with 27 percent seeing more than one million daily. Considering these numbers, it's easy to see how manual analysis of privileged access management risks and vulnerabilities can be prone to human error. One missed alert can result in millions of dollars spent on incident response and recovery. Implementing privileged access management that can automate manual tasks can help your organization simplify operations, improve efficiencies and free up valuable IT staff to focus on strategic tasks – while bolstering your overall security posture.
Understand both current and future use cases for privileged access management solutions. The vast majority of breaches today involve privileged account compromise, so protecting access is a top priority. But, you can't protect what you can't see. Only after a comprehensive inventory and assessment of your privileged accounts, credentials and secrets can you effectively determine what security features your organization will need to stay safe now and into the future.
When evaluating privileged access management solutions, it's important to think beyond your current requirements. Consider how your company's technology strategy is evolving. Your cybersecurity strategy will need to evolve along with it. Are you moving more workloads to the cloud? Is there an initiative underway to adopt DevOps practices? Then, assess if the solution you're considering can scale in complex environments, provide out-of-the-box support for existing security systems, and easily integrate with other vendors and applications you work with now – or may work with in the future.
Create a matrix to help evaluate available platform options and providers. Before you begin your search, it's helpful to develop a simple scoring matrix that outlines required and desired capabilities. This will enable you to assess your current and future use cases against available features and providers. Though every organization has different needs, common evaluation criteria for a privileged access management solution can include:
Password management. Does the solution provide flexible and configurable password rotation for users, applications and DevOps tools?
Security and recoverability. Does the solution feature an isolated digital vault, hardened and secured to store credentials and privileged session recordings securely? Does it offer multiple options for high availability and disaster recovery?
Audit and monitoring. Does the solution provide strong support for audit and monitoring, as well as the ability to detect anomalous account behavior?
Tool integration. Does the solution easily integrate with a broad range of IT and security operations tools?
Privileged account discovery. Does the solution have capabilities to systematically locate privileged accounts and credentials?
Privileged task automation. Does the solution have the ability to automate routine privileged access tasks?
Cloud security. Does the solution have the ability to secure, monitor and control access to the "as-a-service" offerings your company uses or plans to use going forward?
DevOps management. Does the solution provide comprehensive management of all sensitive elements in the DevOps process?
Flexible and scalable architecture. Is the solution architected to accommodate flexible deployment options as your deployment scales?
Following these important steps during your evaluation process will ultimately help you to select the privileged access management provider that best meets your needs, best integrates with your broader security portfolio and has the best long-term support, so you know it will be there when you need it.
Click here to download "Privileged Access Security for Dummies" and learn more.