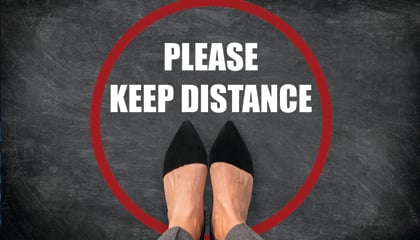 In recent months, social distancing has played a star role in virtually every aspect of our personal and professional lives. Most of us are working from home. In short order, parents were transformed into teachers and full-time caregivers – many times in addition to their full-time jobs. A quick walk down the street requires careful planning: Facemask? Check. Hand sanitizer? Check. Virtual gatherings have replaced social engagements.
It's hard to imagine when — or if – life will ever settle back into "normal", but regardless, social distancing is now part of our lexicon. But what about risk distancing? While social distancing is about following recommended best practices to avoid catching or spreading COVID-19, risk distancing is a reminder to follow best practices for security to mitigate risks of an attack.
The risk landscape has also changed dramatically in the wake of the novel coronavirus. Companies rushed to onboard new applications and services to make remote work possible. Risky work-from-home habits are putting critical business systems and sensitive information at risk. For instance, according to a recent survey, 77% of remote employees use unmanaged, insecure "BYOD" devices to access corporate systems. 66% of remote employees have adopted communications and collaboration tools with known security vulnerabilities like Microsoft Teams and Zoom. . Meanwhile, opportunistic cyber criminals have increased their attacks – from targeting RDP servers to launching sophisticated ransomware – in an effort to capitalize on this uncertain time.
Organizations are challenged in how best to quickly and adequately address infrastructure and productivity needs and recognize the necessity of risk distancing. This is especially true when it comes to securing privileged access for remote workers on distributed corporate endpoints.
Practice Risk Distancing In the New Normal
According to CNBC, industries including technology, financial services and insurance have invested in remote work tools and there's no indication they'll be returning to the old way of doing business. As more organizations extend work-from-home policies for the long term, security teams should take a hard look at existing cybersecurity programs and priorities to determine if they are still adequate for the changing landscape.
We have curated a collection of resources to help you shape new strategies that effectively balance security and productivity and better prepare your organization for the future of work. And to be able to drive safe and responsible risk distancing for your own organization.
Check out our Risk Distancing Resource Center to learn why privileged access management (PAM) is one of the most effective ways to protect critical assets, workstations and remote user access. Review best practices, watch informative "Ask The Expert" videos and take advantage of free CyberArk trials and tools that can help identify and mitigate privilege-related vulnerabilities within your environment.
Ready to practice risk distancing? Read some of our latest blog posts to help guide your next steps, including: