SECURITY THAT WORKS AT DEVOPS VELOCITY
CyberArk Conjur is Available on GitHub as Open Source.
BENEFITS
Reduce risk in your dynamic DevOps environment without compromising on security or velocity.
FOR SECURITY TEAMS
Secure secrets used by machines and users in DevOps environments in alignment with your security and compliance policies.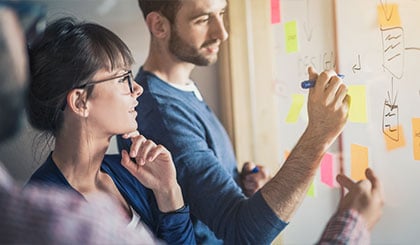 FOR OPERATIONS
Built on an elastic, container-based architecture that supports massive scale and is deployable to any cloud, or on premise.
FOR DEVELOPERS
Available via open source with validated, ready to use CI/CD toolset integrations to simplify
secrets management.
CYBERARK CONJUR ENTERPRISE OVERVIEW
Conjur is an open source security service that integrates with popular tools to provide data encryption, identity management for humans and machines, and role-based access control for sensitive secrets like passwords, SSH keys, and API keys.
KEY FEATURES
Automatically secure and manage secrets used by machines and users throughout the DevOps pipeline
COMPREHENSIVE SECRETS MANAGEMENT
Secure sensitive data such as encryption keys, API keys, certificates, and tokens. Secrets can be rotated based on policy.
ROBUST AUTHORIZATION AND AUDIT
Secure secrets used by machines and users leveraging RBAC. Tamper-proof audit records capture all secrets operations and events.
BUILT FOR CONTAINERS
Leverage the only platform independent secrets management solution specifically architected for containerized environments.
SCALABILITY
Built on a distributed, high-availability architecture that meets your resiliency, scalability, and performance requirements.
EXTENSIVE INTEGRATIONS LIBRARY
Includes validated integrations with leading CI/CD toolsets, DevOps platforms (PaaS), and with existing security systems including AD/LDAP and SIEM.
CYBERARK VAULT INTEGRATION
Automatically replicate secrets from the Cyberark Vault to Conjur. Enable centralized secrets management and drive additional vale from privileged acess security investments.
PRODUCT COMPARISON
Conjur Open Source is a free open source security service that integrates with popular tools to secure secrets, provide machine identity based authorization, and more. Conjur Enterprise offers enterprise class capabilities, including scalability, HA, and robust audit, as well as integration with the CyberArk Vault, and a broad set of certified tool and platform integrations. Conjur Enterprise can be easily upgraded from the Conjur Open Source edition.
Open source is available at conjur.org or upgrade to Conjur Enterprise
CONJUR OPEN SOURCE
CONJUR ENTERPRISE
Secrets Management
Secret Vault

(certificates, passwords, API keys, SSH keys, tokens)

Password history and versioning
Role Based Access Controls

(RBAC)

Policy-based workflow
Secure Operation of CI/CD Tools
Configuration Management support

(Ansible, Chef, Puppet)

CI Server support

(Jenkins)

Secure PaaS

(Platform as a Service)

Integration with Kubernetes/OpenShift
Integration with Cloud Foundry/Pivotal Cloud Foundry
Container Support and Auto Scaling
Container/Container Orchestration
Container strong authentication
Auto scaling of applications
Password rotation
HSM support
Tamper-proof audit and export of audit data
Cloud SSH authorization and permission level management
Enterprise Readiness
Admin Web UI and Activity Dashboard
AD/LDAP and SIEM integration
CyberArk Privileged Access Security Solution integration
HA&DR
Infrastructure elastic auto-scaling
Multi Datacenter Deployment
Centralized Secrets Management
Automatically replicate secrets from CyberArk Vault to Conjur, and automatically update
Enable centralized secrets management with a single control point
Extend CyberArk Privileged Account Security to DevOps, cloud and container environments
Licensing
Open Source
Subscription license
Deployment Options
Docker Image
Amazon AMI
API Clients
Java, Python, .NET, Ruby, Go, Node.js
REST API
CLI Client
Support
Community support
Business hour or 24x7 support
INTEGRATIONS
Works with the DevOps toolchain that your team knows and loves.
ACCESS THESE INTEGRATIONS AND MORE VIA MARKETPLACE