FEARLESSLY FORWARD™
Privileged Access Management That Works at DevOps Velocity
FEARLESSLY FORWARD
Privileged Access Management That Works at Devops Velocity
BENEFITS - DEVOPS AND CONTAINERIZED ENVIRONMENTS
Secure non-human and human privileged access across containerized and DevOps environments.
FOR SECURITY TEAMS
Consistently manage and audit application credentials and privilege across DevOps and containerized environments and for the DevOps administrators assigning privilege.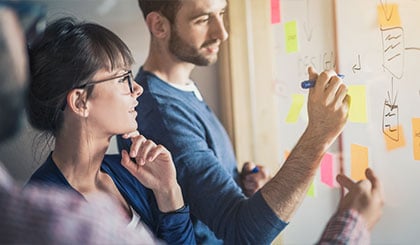 FOR OPERATIONS
Support massive scale and deployment flexibility to cloud, hybrid or on-premises environments by leveraging an elastic, container-based architecture.
FOR DEVELOPERS
Simplify securing application credentials by leveraging integrations with CI/CD toolsets and container platforms. Accelerate developer access with Open Source solutions.
APPLICATION ACCESS MANAGER FOR DEVOPS OVERVIEW
Application Access Manager for DevOps and the Conjur Open Source solution for DevOps each integrate with popular tools and container platforms to provide a comprehensive solution for securing secrets and other credentials in DevOps environments.
DEVOPS-FOCUSED CAPABILITIES
Automatically secure and manage credentials and secrets used by non-human identities and human users throughout the pipeline and containerized environments.
SECURE AND MANAGE
APPLICATION SECRETS
Secure and manage secrets and other credentials used by applications, container platforms, automation tools and other non-human identities with flexible APIs and Secretless Broker capability.
SECURE TOOL CONSOLES
AND HUMAN USERS
Manage and monitor human and non-human access to CI/CD tool chain management consoles. Simplify access to privileged resources by human users.
ENSURE ROBUST
AUTHORIZATION AND AUDIT
Authenticate applications and containers using native application attributes and role-based access controls. Record key events with tamper-resistant audit.
MEET ENTERPRISE
SCALE CAPABILITIES
Meet stringent enterprise resiliency, scalability, and performance requirements with a distributed, high-availability architecture.
SIMPLIFY
PARTNER INTEGRATION
Accelerate deployments by leveraging validated integrations with leading CI/CD toolsets, PaaS/container platforms, and with existing security systems including AD/LDAP and SIEM.
LEVERAGE CYBERARK
SOLUTIONS PORTFOLIO
Consistently secure privilege across the entire enterprise, including for DevOps, applications, container platforms and other non-human credentials, as well as for all human privilege.
INTEGRATIONS
Works with the DevOps toolchain that your team knows and loves.
MARKETPLACE
Extend secure privileged access across your entire enterprise with integrations from CyberArk and our partners.