ADAPTIVE MULTI-FACTOR AUTHENTICATION
Strengthen Access Controls with Adaptive
Secondary Authentication
ADAPTIVE MULTI-FACTOR AUTHENTICATION
Strengthen Access Controls with Adaptive Secondary Authentication
BENEFITS
Idaptive Multi-Factor Authentication (MFA) adds an extra layer of protection before access to corporate applications is granted. Leveraging device, network, and user behavior context, Idaptive MFA intelligently assigns risk to each access event and allows you to create dynamic access policies that are triggered when anomalous behavior is detected.
SECURE AUTHENTICATION
Eliminate reliance on passwords by securely authenticating users via a broad set of supported factors, including FIDO2 keys, virtual and hardware tokens, and mobile authenticators.
PROTECT EVERYTHING
Secure your entire enterprise to reduce the risk of security breaches. With Idaptive MFA, you can protect access to cloud and on-premises applications, endpoints, VPNs, and virtual desktops.
SIMPLIFY USER EXPERIENCE
Limit secondary authentication challenges to risky access requests with dynamic policies based on login context and historical user behavior.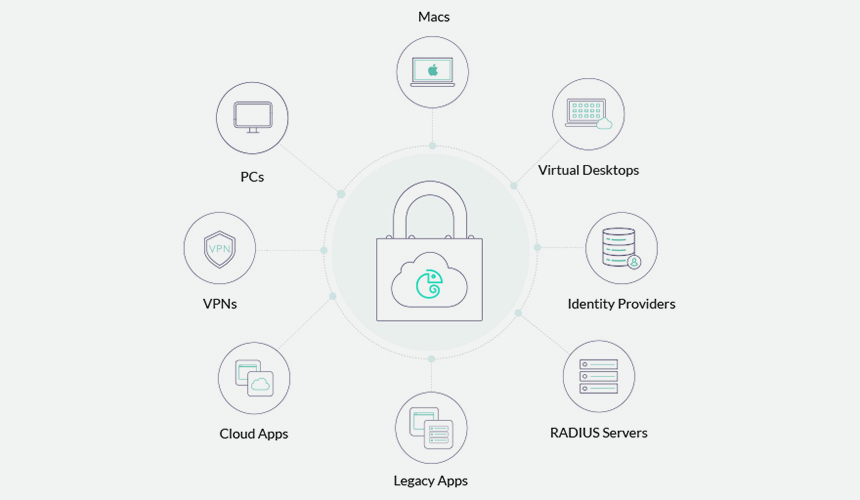 MFA EVERYWHERE
Idaptive Multi-Factor Authentication secures your entire organization.
Apps: Set up secondary authentication challenges to secure access to all or specific cloud, on-premise, mobile, and custom apps.
VPNs: Protect remote access to your on-premise resources by integrating Idaptive MFA with Cisco, Palo Alto Networks, and Juniper VPN services.
Workstations: Require secondary authentication to access your domain-joined workstations.
Mac and Windows Endpoints: Enable MFA for macOS and Windows endpoints enrolled with Idaptive to require end-users to pass secondary authentication challenges during the login process.
Virtual Desktops: Enable stronger authentication to VDIs such as Amazon Workspaces.
Identity Providers: Secure access to applications and resources secured by supported third-party IDPs, such as Microsoft Active Directory Federation Services (ADFS).
RADIUS servers: Add a secondary layer of protection to applications and resources that support RADIUS authentication.
BROAD SET OF AUTHENTICATION FACTORS
Idaptive MFA solution supports a comprehensive range of authentication methods to make it easy for your users, customers, and partners to securely
access your applications and data. You can choose push notifications, mobile authenticators, SMS messages, emails, interactive phone calls, as well as
hardware tokens and derived credentials to verify user identities.
ADAPTIVE AUTHENTICATION BASED ON CONTEXT
Idaptive uses machine learning to build a baseline profile for each user, leveraging user-specific contextual attributes such as location, device, network, and time of access requests. This enables you to analyze access requests against historical patterns, assign risk to each login attempt, and
create access policies that are triggered when anomalous behavior is detected.
ENDPOINT AUTHENTICATION
Enforce secondary authentication policies for logging into macOS and Windows devices enrolled with the Idaptive platform. Endpoint MFA significantly reduces the risk of attacks that leverage compromised credentials to access corporate applications and data from end-user devices.
EASY ADMINISTRATION
Idaptive MFA includes features to help administrators streamline secondary authentication controls and enhance the end-user experience.
Passwordless Authentication: Eliminate the use of passwords by securely authenticating users via a broad set of supported factors.
Self-service Enrollment: Enable users to add and modify authentication factors directly in the Idaptive User Portal.
Flexible Authentication Policies: Control end-user experiences by defining MFA bypass period and dynamically adjusting authentication requirements based on risk.
Reporting and Auditing: Use out-of-the-box reports to gain insight into authentication activities, such as secondary authentication failures, successful login attempts, and most- used authentication factors.