WORKFORCE ACCESS SECURITY SOLUTION
Secure employee, contractor, and partner access to every application on any device.
WORKFORCE ACCESS SECURITY SOLUTION
Secure employee, contractor, and partner access to every application on any device.
BENEFITS
With CyberArk Idaptive solution, you can secure access to your entire enterprise, including cloud and on-premises applications, endpoints, and VPNs, reduce the risk of security breaches, and simplify user experience.

REDUCE RISK
Minimize the risk of security breaches due to weak or compromised credentials with strong authentication methods, adaptive access controls, and fine-grain access management at every point of employee lifecycle.
ENHANCE USER EXPERIENCE
Provide frictionless, user-friendly, and secure way for end-users to access corporate resources with customizable user portal and contextual authentication policies.
UNBURDEN IT
Reduce the volume of access-related help desk tickets and accelerate adoption of approved corporate applications with secure self-service tools and automated access provisioning workflows.
SINGLE SIGN-ON
Simplify access to your cloud, mobile, and legacy apps with a single set of credentials. With Idaptive SSO, you can enforce stronger password policies, reduce the risk of poor password practices, and get visibility into the access activity of your users.
ADAPTIVE MULTI-FACTOR AUTHENTICATION
Secure access to your entire organization with a broad range of secondary authentication methods. With Idaptive MFA, you can leverage user-specific contextual attributes such as location, device, and network information to assign risk to each user login attempt and create dynamic access policies.
PROVISIONING AND LIFECYCLE MANAGEMENT
Streamline management of your application access requests, creation of app accounts, and termination of access at every stage of the employee lifecycle.
With Idaptive Lifecycle Management, you can import identities from your HRIS systems, such as Workday, UltiPro, BambooHR, or SuccessFactors, and provision them into Active Directory.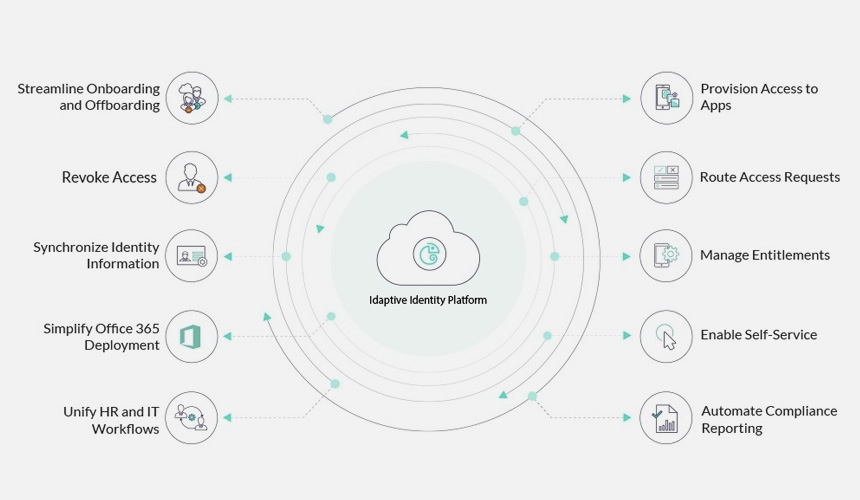 APP GATEWAY
Secure remote access to on-premises apps without installing and maintaining VPNs, making code changes, or deploying additional infrastructure.
CLOUD DIRECTORY
Idaptive Cloud Directory enables you to manage an unlimited number of users and endpoints created directly in the Cloud Directory or sourced from third-party on-premises, cloud, or HRIS directories.
USER BEHAVIOR ANALYTICS
Idaptive User Behavior Analytics (UBA) powers adaptive access controls by gathering insights into the access events that users generate every day. With Idaptive UBA, you can analyze access activity and act on detected anomalous or malicious user behavior in real-time.
DEVELOPER APIS
Idaptive Developer Portal provides API documentation, guides, and examples on integrating Idaptive identity and access management capabilities into custom applications.