2023 Identity Security Threat Landscape Report
AI advances, employee churn and economic pressures fuel the identity attack surface.
Cyber Debt Leads to Cyber Risk
Our 2023 research report highlights that the risk of cyber debt is compounding for most organizations, driven by economic volatility, staff turnover, a consumer spend downturn and an uncertain global environment.
Why does this matter? Cyber debt, where investment in digital and cloud initiatives outpaces cybersecurity spend, exposes organizations to greater vulnerabilities and risk. We surveyed 2,300 security professionals to get insights on the current threat landscape and what concerns them the most.
240%
Anticipated growth in digital identities
68%
Concerned about insider threats from employee layoffs and churn
99%
Expect identity compromise driven by financial cutbacks, geopolitical factors, cloud adoption and hybrid work
74%
Concerned about confidential data loss through employees, ex-employees and third-party vendors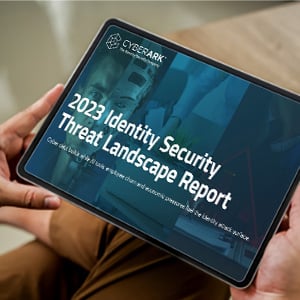 Read the 2023 Identity Security Threat Landscape Report
This report represents the findings of a worldwide survey across private and public sector organizations of 2,300 cybersecurity decision makers. Get all the data and insights.
The 2023 Attack Surface
AI-enabled threats, the effects of ransomware and ongoing software supply chain issues feature in the 2023 attack surface.
AI-Enabled Threats
More than 9 out of 10 security professionals surveyed expect AI-enabled threats to affect their organizations in 2023.
Credential Compromise
Credential access was the #1 risk area for respondents.
Double Extortion
60% of organizations affected by ransomware paid demand to allow recovery twice or more.
Manage privileged accounts and credentials
Secure workforce and customer identities
Secure and manage access for applications and other non-human identities