SINGLE SIGN-ON
Secure Access with Adaptive Single Sign-On.
SINGLE SIGN-ON
Secure Access with Adaptive Single Sign-On.
BENEFITS
Adaptive Single Sign-On (SSO) is an easy-to-manage solution for one-click access to your cloud, mobile, and legacy apps. Idaptive SSO enables a secure and frictionless sign-in experience for both internal and external users that adjusts based on risk. Users simply sign in to a web portal using their existing corporate credentials to access all their assigned applications from one place.
REDUCE RISK
Enforce strong password policies and reduce the risk of poor password practices. With SSO, users are less likely to write passwords down, use repeat passwords, or create simple, commonly used passwords.
INCREASE PRODUCTIVITY
Simplify access to apps with one convenient portal. Users log in once and get one-click access to all the resources they need to do their jobs.
UNBURDEN IT
Reduce the volume of password-related help desk calls and tickets with secure and user-friendly self-service capabilities.
IMPROVE COMPLIANCE
Meet requirements around data access and get visibility into access events with out-of-the-box reports.
COLLABORATE WITH PARTNERS
Provide one-click access to applications for your partners' employees. With SSO, partners can access your applications according to their policies and processes.
IMPROVE SECURITY
Extend Single Sign-On, adaptive Multi-Factor Authentication, and fine-grained access policies to your on-premise applications.
USER PORTAL
With Adaptive SSO, users enter one set of credentials to access all their cloud and on-premise apps in one place. Users sign in to their personalized web portal with existing corporate credentials to access assigned business apps with one click. The user portal allows users to update profiles, reset forgotten passwords, and request access to additional apps.
SECURE GATEWAY FOR LEGACY APPS
The Idaptive App Gateway enables you to set up secure, per-app access to your on-premises applications without a VPN. With App Gateway, you can access individual legacy applications based on application URLs, users, groups, and network information without exposing your entire network, installing hardware, or changing firewall rules.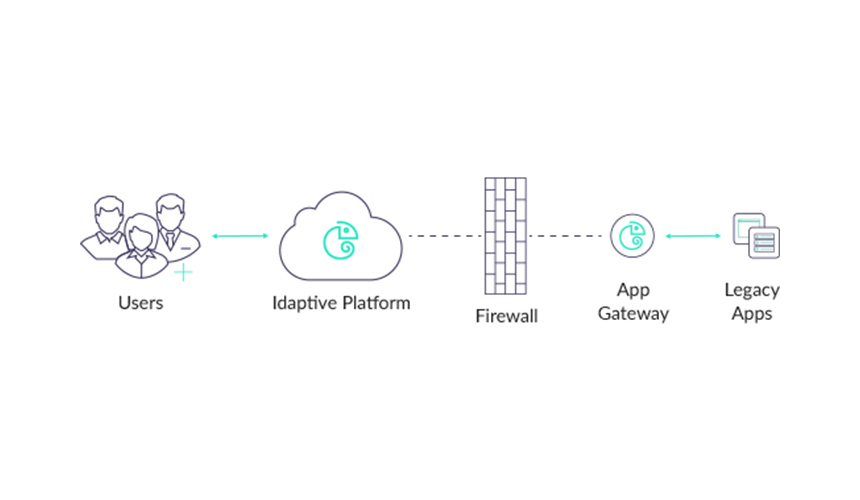 ADAPTIVE ACCESS MANAGEMENT
Idaptive uses machine learning to build a baseline profile for each user, leveraging location, device, network, time-based, and user-specific contextual attributes. This enables you to analyze user activity against historical patterns, assign risk to each access request, and create policies and actions that are triggered when anomalous behavior is detected.
FLEXIBLE CLOUD DIRECTORY
Idaptive allows you to create users and groups in the Idaptive Cloud Directory, federate identities from on-premises and cloud-based directories, or use any combination of directories to meet your specific requirements. With Cloud Directory, you can store an unlimited number of users, attributes, or groups from integrated enterprise directories, such as Microsoft Active Directory (AD), Azure Active Directory (AAD), LDAP-based directories, and Google Cloud Directory. You can also let your users sign in using their Social Identity Provider credentials. This allows you to specify the authoritative identity source and allow users to sign in to the Idaptive Portal and your apps with their existing enterprise or social credentials.
BROWSER EXTENSION
Idaptive Browser Extension works in tandem with the Idaptive web portal to enable one-click, secure access to business and personal apps. Idaptive
Browser Extension automatically recognizes when new credentials to apps or sites are entered and seamlessly adds them to your web portal. This allows users to add password-based web apps in seconds from their browser without the need for custom scripting or configurations.
APPLICATION CATALOG
The Idaptive app catalog enables easy deployment of single sign-on to thousands of pre-integrated web and mobile apps. The catalog also contains
templates leveraging SAML, OIDC, WS-Fed and OAuth 2.0 protocols allowing the addition of your custom apps. Select the appropriate template, add the information to send applications to enable SSO access, and deploy them to your users.