PRIVILEGED ACCESS SECURITY SOLUTION
Dedicated to Stopping Attacks Before They Stop Business.
BENEFITS
With CyberArk's Privileged Access Security Solution, you can meet your compliance requirements and reduce your security risk without introducing additional operational complexity.
PRIVILEGED ACCESS SECURITY SOLUTION
The CyberArk Privileged Access Security Solution addresses a wide range of use cases to secure privileged credentials and secrets wherever they exist: on-premises, in the cloud, and anywhere in between.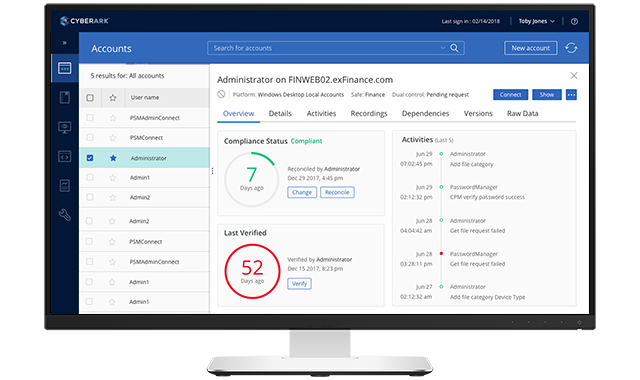 CORE PRIVILEGED ACCESS SECURITY
Continuously discover and manage privileged accounts and credentials, record and monitor privileged sessions and remediate risky activities across on-premises, cloud and hybrid environments. Enable least privilege on both Windows and *NIX servers and detect and mitigate threats on domain controllers. The API-first approach enables full task automation and enhances functionality.
ALERO™
Enable secure remote vendor access to the most sensitive IT assets managed by CyberArk, without the need for VPNs, agents or passwords. Alero combines Zero Trust access, biometric multi-factor authentication, just-in-time provisioning and visibility into one single SaaS solution for providing remote vendors secure access to the CyberArk Core Privilege Access Security Solution.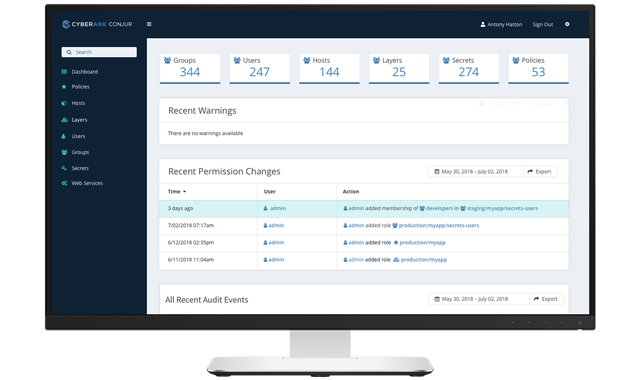 APPLICATION ACCESS MANAGER
Control, manage and audit non-human privileged access for applications, including commercial off-the-shelf, in-house developed applications and applications developed using DevOps tools and methodologies — across on premises, hybrid, cloud and containerized environments.
ENDPOINT PRIVILEGE MANAGER
Enforce least privilege, control applications, and prevent credential theft on Windows and Mac desktops and Windows servers to contain attacks and stop lateral movement.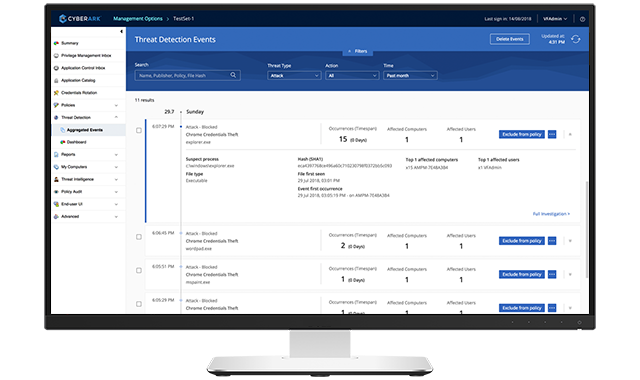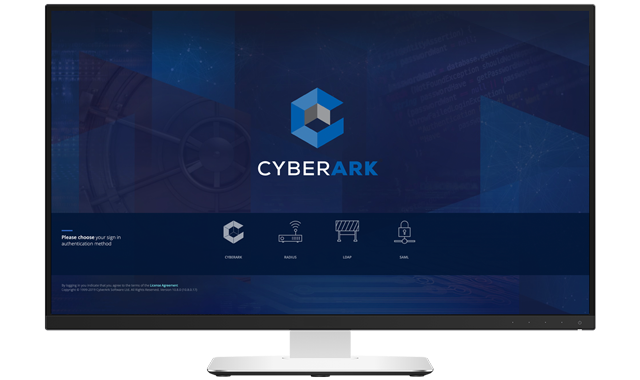 CYBERARK PRIVILEGE CLOUD
Satisfy fundamental privileged access security requirements by utilizing CyberArk's expertise to manage the underlying infrastructure. With CyberArk Privilege Cloud, organizations can empower security and IT operations to focus on high-level tasks critical to the organization's security posture.
CLOUD ENTITLEMENTS MANAGER
Cloud Entitlements Manager reduces risk and improves visibility through continuous, AI-powered detection and remediation of hidden, misconfigured and unused permissions across cloud environments – all in a single, intuitive dashboard – allowing organizations to quickly and confidently establish least privilege in the cloud.
SHARED TECHNOLOGY PLATFORM
The CyberArk Privileged Access Security Solution leverages a shared technology platform that improves operational efficiency and integrates seamlessly into your existing environment.
DIGITAL VAULT
CyberArk's Digital Vault is hardened for on-premises and cloud deployments with multiple layers of built-in security for authentication, access control, encryption, tamper-proof storage, and data protection.
DISCOVERY ENGINE
The CyberArk Accounts Feed discovers user and service accounts, SSH Keys, secrets and other privileged credentials so you can assess the size and magnitude of your privileged account security risk.
SECURE AUDIT
CyberArk provides centralized, tamper-proof audit records for all privileged access activities, with personal accountability for any access or usage of shared privileged accounts.
SCALABLE, FLEXIBLE ARCHITECTURE
CyberArk's component-based architecture is simple to deploy and maintain and can easily scale to the most complex enterprise deployments with full support for high availability and disaster recovery configurations.
ENTERPRISE CLASS INTEGRATION API
CyberArk's solutions can be easily integrated with your existing security, operations, DevOps tools and applications. The C3 Alliance delivers certified integrations with alliance members so you realize faster time to value from the solution.