Watch CEO Udi Mokady and SVP of Product Management Roy Adar discuss the latest release of the CyberArk Privileged Access Security Solution
CyberArk Automates and Simplifies Protection Against Privileged Access Exploitation
SIMPLIFY PRIVILEGED ACCOUNT SECURITY AT SCALE
Streamlined deployment and configuration, 10x improvement in time spent on operational tasks and comprehensive support for API-First strategies.
PROTECT PRIVILEGED CREDENTIALS EVERYWHERE
Accelerate security in the cloud, automate DevOps secrets management, and help prevent privileged attacks at the endpoint.
Simplify the installation and configuration of the CyberArk Privileged Access Solution by 96%
Detect and onboard unmanaged privileged accounts with automatic account remediation
Automatic suspension of privileged session containing high-risk activities
Streamlined user interface with guided review simplifies user experience based on extensive end user feedback
Reduce the time IT operations teams spend gathering account information by 10x and the time spent by IT auditors reviewing session recordings by 5x
Leverage new REST APIs to quickly integrate CyberArk solutions with existing security, operations and DevOp tools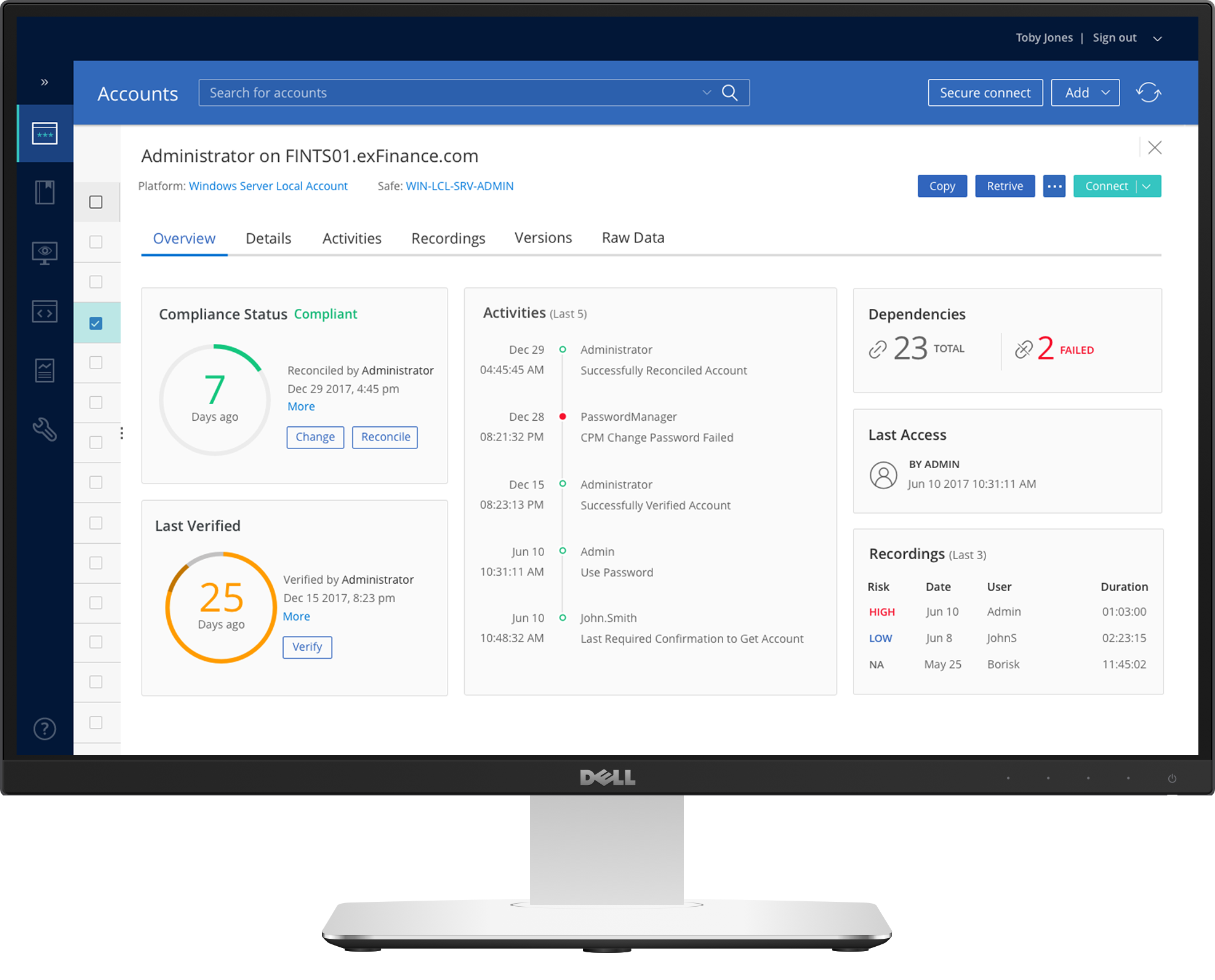 PROTECT PRIVILEGED ACCESS EVERYWHERE
Secure and manage local administrator accounts for endpoint devices on and off the corporate network for both Windows and Mac users.
Extend rapid deployment of CyberArk Privileged Access Security Solution to Azure hybrid environments within ~10 minutes.
Integration with AWS CloudWatch automates the on-boarding of credentials — reducing the risk of unmanaged credentials in elastic compute environments (including with Auto Scaling) and enabling security teams to save time and focus on mitigating potential threats.
Integration with Ansible, a leading orchestration tool, and CyberArk Discovery & Audit (DNA) improves and simplifies security of CI/CD pipelines and DevOps environments by automatically finding hidden credentials.
Guard against privileged attacks at the endpoint with new cloud-based Application Risk Analysis Service, which enables timely, well informed privilege and application  control policy decisions.
The Best. Just Got Better.
REQUEST A LIVE DEMO