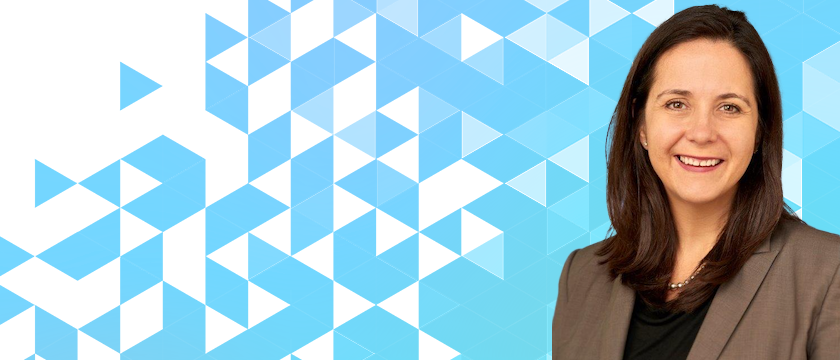 March is Women's History Month, a celebration of women's past and present contributions to society, business and culture, and a fitting time to recognize one of CyberArk's own intrepid Women in Identity Security.
CyberArk Senior Vice President of Investor Relations and Environmental, Social and Governance (ESG) Erica Smith joined CyberArk in 2015 on the heels of its IPO to build an advanced investor relations program as company growth accelerated. Up for the challenge, she dove in head-first, raising awareness of security's role in shaping the business landscape, cultivating strong shareholder relationships and cementing the program's position as a strategic enabler. Smith's leadership role recently expanded to encompass ESG — formalizing principles that have always been part of CyberArk's operating rhythm and reflect CyberArk's mission. Focused on defining the program and charting new ground, it's an exciting and busy time for Smith, but she takes it all in stride, noting that humor, positivity and perspective are key to staying balanced.
We asked Smith about her professional journey, influential female mentors along the way and how more diversity can help strengthen the cybersecurity industry at large. Here's what she had to say:
Tell us how you got into the cybersecurity field and what's been most important to you as you've progressed along your career path?
"I have a finance background and moved into investor relations early in my career where I worked at several enterprise technology companies. I wish I could say my entry into cybersecurity was deliberate, but my career choices — including joining CyberArk — have always been centered on people. I ask myself a few key questions when considering a position: 'Do I want to spend the majority of my time with this team? Do we share similar values, particularly as it relates to transparency, integrity, long-term relationships and the pursuit of diverse perspectives? Lastly, and importantly, will I learn and be challenged?'"
What's the best professional advice you've ever received?
"To step out of my comfort zone. Working in both investment and cybersecurity sectors, I've often been the only woman in the room. It's not in my nature to dominate a discussion but early in my career, a mentor encouraged me to push past this and speak up with confidence. I've learned to do this while also embracing more innate strengths of intuition, flexibility, mindfulness and empathy to develop and grow professionally. Everyone has a unique approach, don't fight it — be you!"
Speaking of mentors, can you talk about the women who have influenced your career?
"I've had incredible woman role models over the course of my career, including at CyberArk. My strongest role models are those who have elevated and supported others by truly working as a team. They've taught me that fostering loyalty and trust pays tremendous dividends — and they've exemplified how this can be achieved in functional groups and across organizations."
"If your manager, colleague or teammate is truly supportive, you feel empowered to take calculated risks and mistakes become okay. I've learned that failing fast doesn't mean failure: it just means you need to try a new road. When there is a deep-rooted belief that everyone is "in it together," people feel more connected — to the mission, to the outcomes and to one another. I've seen this firsthand and try to bring a 'win together, lose together' mindset to work with me every day."
This Women's History Month focuses on ways to #BreakTheBias to create a more diverse, equitable and inclusive world. Can you describe how greater diversity is integral in strengthening and accelerating the cybersecurity industry?
"The data supports a strong link between diversity and enhanced company performance in both profitability and growth. It's easy to see why: diversity brings more perspectives, experiences and creativity to the table to solve big problems and drive innovation forward. More important, diverse representation helps to create an inclusive, safe place to collaborate, share ideas and challenge thinking, helping us all grow as individuals and practitioners. By cultivating a strong sense of belonging and providing more of these growth opportunities, the cybersecurity industry can attract and retain more talent and progress more quickly."
In closing, can you share a personal mantra that motivates and inspires you to be your best self?
"Play the long game. With integrity as the north star, do the right thing for the long run, steering clear of distraction and keeping the long-term impact in focus. This cuts across all spectrums of work and life, and ultimately comes down to trust — the foundation upon which cybersecurity, investor relations, ESG and everything else is built."
Editor's note: At CyberArk, Diversity, Equity and Inclusion (DE&I) is a top corporate initiative and a major focus along our ESG journey. To learn more about ways we're evolving our recruiting efforts, our educational and awareness programs and our support networks for underrepresented groups, read our latest ESG Report.