CYBERARK PRIVILEGED THREAT ANALYTICS
Collect, Detect, Alert and Respond to High-risk Activity and Behavior
FOR SECURITY
Granular-level detail on high-risk privileged related activity accelerates incident response times.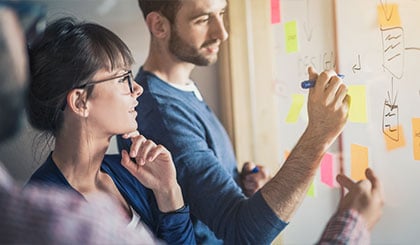 FOR OPERATIONS
Ensure privileged access management controls are not by passed by malicious insiders and external attackers alike.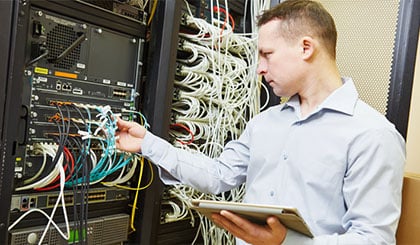 FOR COMPLIANCE
Risk-based scoring enables auditors to improve review cycle times by prioritizing sessions based on risk.
Cyberark makes the whole process painless to the end user. Their solution is extremely intuitive and easy to set up. The solution protects all of our admin and privileged accounts and enables us to tout our strengthened smart card security posture to all of our customers.
Security Solutions Architect – Global Communications Solutions Provider
CASE STUDY
A global communication solutions provider relies on CyberArk Privileged Access Security Solution
KEY FEATURES
Real-time monitoring and recording demonstrates regulatory compliance
PRIVILEGED ACCESS ANALYSIS
Collect and analyze data from on-premises, cloud, or hybrid environments that contain the highest risk for extensive damage.
BEST-OF-BREED DETECTION
The analytics engine leverages statistical modeling, machine learning, UEBA and deterministic algorithms to detect malicious activity.
THREAT CONTAINMENT
Remotely suspend or terminate sessions to enable security teams to immediately quarantine or terminate high-risk privileged sessions.
ACTIONABLE ALERTING
Deliver high performance. Offer flexible and enterprise scale deployment options, including agent and agentless.
AUTOMATIC RESPONSE
Offer validated integrations with leading development platforms, and with existing security systems including AD/LDAP and SIEM.
MARKETPLACE
Extend secure privileged access across your entire enterprise with integrations from CyberArk and our partners.
READY TO GET STARTED?
Act now. Take the CyberArk Guided Tour to see why CyberArk is the #1 Leader in Privileged Access Management.