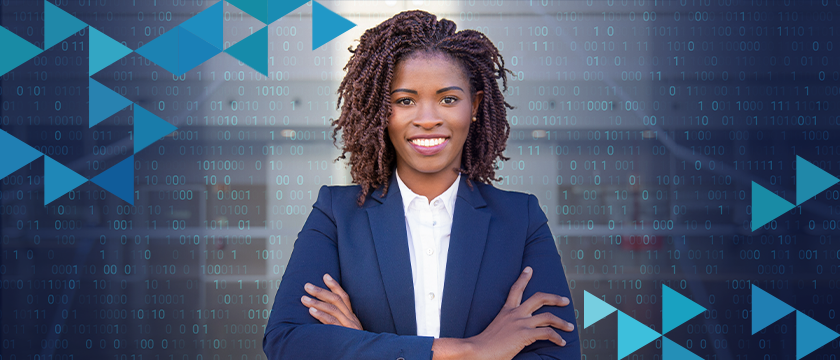 During the pandemic, four million women — a significantly higher number than men — left the workforce, mostly to take on caretaking duties. While the past few years have emphasized this gender imbalance, "career breaks" are nothing new for many women around the world. When the time comes to re-enter the workforce, they often face challenges.
Explaining the Résumé Gap
Such was the case for Neethu Shenoy, an engineer who paused her career and made an international move to the United States after her daughter was born. Though she was eager to reenter the workforce, pandemic-driven delays extended her career break longer than planned — but that didn't stop her from developing new skills through online training courses.
Still, the thought of re-entering the workforce was daunting. "Six and a half years is a long time," Shenoy says. "And staying up to date through education and actual work experience are two very different things. I was nervous and lacked confidence during my job search, not knowing how to navigate through the new world for opportunities."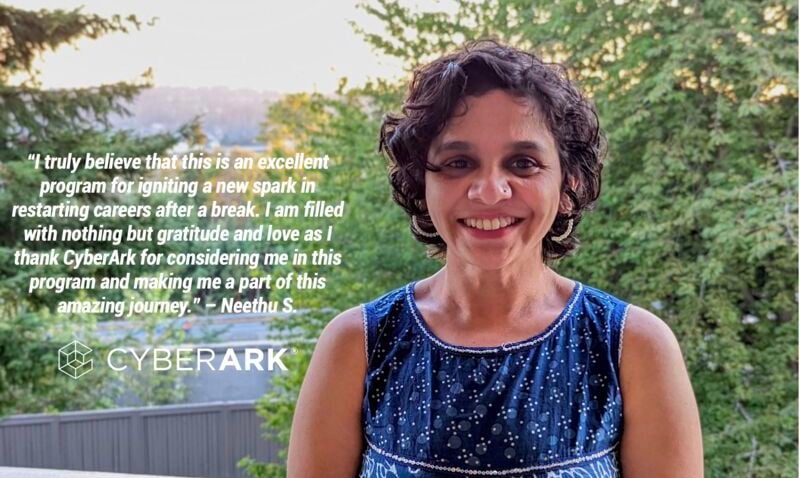 Research supports this: The longer women remain out of the workforce, the more difficult it is to return. What's more, one in three workers experiences a loss in confidence after spending a significant amount of time away from work — with women almost twice as likely to be affected as men.
Systems engineer Alena Tychyna echoes these challenges. "There was a huge gap in my résumé. It was hard for me to even make it to the interview process." But she didn't give up, submitting more than 50 job applications and continuing to enhance her technical skills at home.
Both Shenoy's and Tychyna's job searches ultimately led them to the CyberArk Returnship Program, a recently launched initiative that helps professionals reconnect with their careers. After participating in an immersive program involving full-time work, coaching and mentorship, both women graduated and were offered permanent positions at CyberArk.
Widening the Cybersecurity Talent Pool
In cybersecurity — an industry plagued by talent shortages — returnship programs can widen the talent pool of experienced workers, and also help attract more women to the profession.
Says CyberArk Chief Human Resources Officer Ruth Shaked, "It's no secret that sourcing for critical, scarce talent remains a top priority for cybersecurity companies like CyberArk. To successfully execute upon our strategy and goals and to delight our customers with solutions and services that meet their Identity Security requirements, it is essential that we have in place an engaged and motivated workforce. For us, meeting that challenge in the face of the war for talent means embracing creative new ways to attract, retain and develop talent. And what better way could there possibly be than to tap into a market of highly motivated and high-potential candidates?"
Shaked continues, "The CyberArk Returnship Program, devised and introduced by one of our senior technical talent acquisition partners, Sheetal Surendran, does just that. When Sheetal pitched the idea to me that we might consider providing an opportunity for women with a technical background and some previous experience to get back into the workforce — after having taken a break for a variety of personal reasons — I couldn't have been more enthusiastic."
Shaked views returnship as a true win/win, calling the CyberArk pilot program an important step in "building diverse and inclusive teams that celebrate a variety of backgrounds, skills and perspectives" and "increasing the percentage of women at CyberArk, especially in technical roles."
"We've found that women resuming their professional careers in technical roles — after opting to stay home for a couple of years with their young children or to pursue an important hobby or interest — possess a level of determination to learn and to excel that is unparalleled," says Shaked.
A Win/Win for Returners and Employers
Regardless of industry, the benefits of returnship programs are many: Returning professionals can expand their knowledge and skills while easing the transition back to work. Meanwhile, managers have more time to evaluate potential additions to their teams, leading to smarter hiring decisions and stronger retention rates.
Sean Gorman, vice president, cloud operations at CyberArk believes this on-the-job "trial period" is particularly helpful for both parties. "Screening only gets you so far and often doesn't uncover mismatch in team fit, soft skills or even technical skill gaps," he notes. "This time allows the company to evaluate the relationship for unexpected challenges, and helps the returner make a fair assessment of the job while immersing themself in the company's culture."
Bryan Barnes, director of technical support, Americas at CyberArk, says that returners have brought a welcome infusion of knowledge and capacity to his team. In his experience, professionals who have taken a career break often bring valuable life experiences and perspectives to the table. "We've noticed that returners tend to be very patient and driven to succeed in a way that many people are not. A career break allows them to define what they want and pursue it with passion," says Barnes.
Gorman agrees, noting that the soft skills returners bring — which play a huge role in customer-centric work cultures — cannot be overstated. "Different viewpoints help teams solve issues in creative ways, spark new and interesting invention and bring a more meaningful perspective to day-to-day work life," says Gorman. "My team has found the level of enthusiasm and engagement to be very high, and that returners seem very open to learning and adapting, whereas workers with a bit more confidence in their recent history may sometimes fall into the 'yeah, I know that' trap," he continues.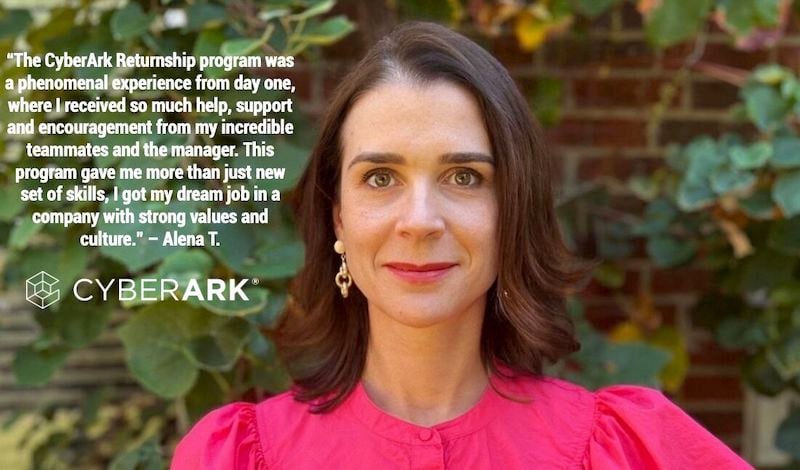 Fighting the Stigma
For too long, career breaks and résumé gaps have hindered highly qualified professionals from re-entering the workforce and filling desperately needed cybersecurity and STEM roles.
The good news is that things are starting to change for the better. As one example, LinkedIn introduced a "career break" label in 2022 that allows people to better represent their experiences outside of traditional "work." This label provides helpful context for potential employers and fosters important dialogue during interviews. And as more companies introduce returnship and return-to-work programs, it is also aiding important recruiting and hiring efforts.
Research clearly shows that when women are empowered to re-join the workforce, everyone benefits. To those women considering a move back to work, Tychyna offers these final words of encouragement: "Don't feel discouraged and don't ever give up. Your dream job is waiting for you!"