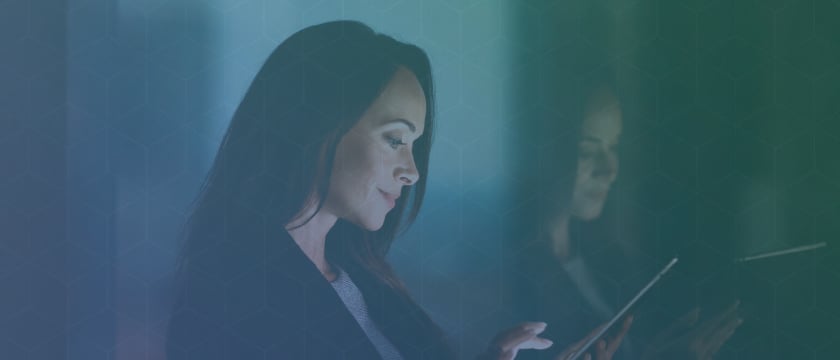 While cybersecurity as an industry aims to close gaps, cybersecurity as a profession has notoriously struggled with its own gaps when it comes to representation. When examining gender diversity specifically, women account for only 25% of the cybersecurity workforce today. This must change.
Bringing more women into the profession, as well as retaining and elevating more women to leadership positions, is essential to addressing widespread talent shortages and driving continued innovation. Unsurprisingly, some of the best ideas on how to make this happen come from women in the field.
At CyberArk Impact 2022, we heard perspectives from an amazing group of female cybersecurity and identity professionals – customers, partners and CyberArk employees – who explored this topic from various angles. We've distilled some of the major themes and takeaways here. From paying homage to computer programming's pioneering females to offering practical ways to better balance life and work, these women truly inspired us last week in Boston.
Breaking Down Barriers to Entry
Sparking interest in technology and cultivating cybersecurity career paths from an early age is one important way to bring more women into the fold. Partnerships with educational institutions and dedicated internship programs drive gender diversity. But not every cyber career follows a straight path. In 2021, the percentage of women leaving the workforce or transitioning to new jobs spiked by 54%, with many searching for more flexibility after shouldering enormous burdens brought on by the pandemic. We must do more to reach these women with a clear message: You don't have to be technical to have a job in cybersecurity – there are opportunities of all kinds.
And if coding or another technical aspect of cybersecurity does intrigue you, go for it – even if you don't have a related degree. Yonit Zamir, one of the rockstar software engineers behind our new CyberArk Identity Security Intelligence shared service, said, "I enrolled in a programming course – and haven't stopped learning since. If you're interested in development, grow that passion, learn new languages and tools, find opportunities to work on new things, and never give up. Employers will recognize your talent and potential."
Shaping Modern Technology Innovations
"Women have always played, and continue to play, a critical role in shaping technology innovations," said Laura Balboni, CyberArk product marketing manager. In fact, many of the first computer programmers were women, from trailblazing mathematician Ada Lovelace to African American females Mary Jackson, Katherine Johnson and Dorothy Vaughan, who overcame institutional racism and sexism to build the U.S. space program at NASA.
Today, as software development centers on exceptional user experience (UX), female engineers continue to bring highly valuable, innate skills to the table, such as intuition, persuasive communication styles and unique problem-solving approaches. Noa Moyal, CyberArk UX/UI group manager, product management described it this way: "Modern UX, shaped by women, is inclusive yet personalized."
CyberArk R&D Group Manager Marina Osherov and R&D Project Manager Yael Zigdon shared their perspectives on how women also bring passion and camaraderie to complex projects, building each other up and tackling challenges during late-night calls after the kids go to bed. This dynamic duo led a large, virtual, cross-country team to roll out a new unified admin portal – one of several foundational shared services across the CyberArk Identity Security Platform. "In so many ways, our work styles balance and complement each other, and I'm so grateful for her," said Osherov of her colleague.
Showing up and Standing up for Women at Work
Fostering inclusion in the workplace is an essential conversation for everyone. We heard from male cybersecurity professionals at the popular "Women in Security" breakfast panel during Impact, who were eager for insights on ways they can improve allyship and become better managers and colleagues. Equality, parity and inclusion were highlighted in responses. Women also encouraged one another to lead by example, take intentional steps to lift others up and use everyday moments to forge connections.
Through mentoring, sponsoring and cheerleading to openly show empathy and support, we can all do something to elevate the women we work with and help them lead.
Recapping: Who Run the World?
We'll close by summarizing some of our favorite women in cybersecurity soundbites, tips and general sentiments from the industry's largest gathering of Identity Security leaders:
Learn to be comfortable with being uncomfortable. Push others, push yourself.
Unapologetically bring your whole self to work each day.
Think about where you want to be next year (and the years after that) in your career. And say it out loud!
People aspire to be who they can see. Make yourself available and open for organic interactions and connections.
On the constant family/work/life juggle: Be purposeful with your time, push to prioritize. You can't re-do milestone "one time" events like graduations – make them count.
And finally, to echo our hands-down favorite CyberArk Impact 2022 keynote walk-in song… "Who Run the World?" (women in cybersecurity).
Have other tips and advice to add to the list? Share them on Twitter with the hashtag #esgcyberark – we'd love to see them and continue this mission-critical conversation.