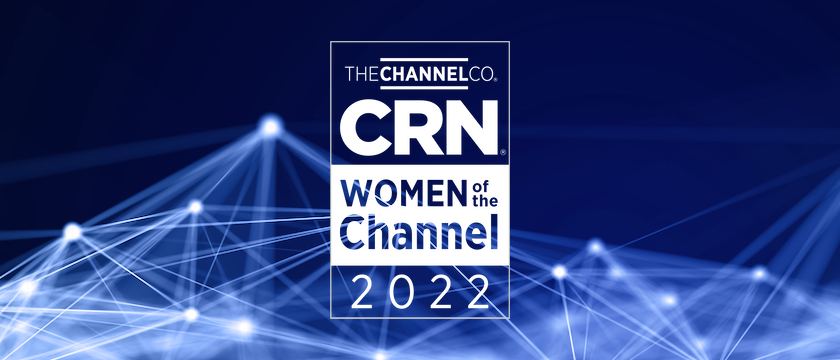 Each year, CRN's Women of the Channel list honors the accomplishments of female leaders in the IT channel. Today, we celebrate four of CyberArk's own incredible Women in Identity Security named to CRN's newly published 2022 list for their vision, leadership and dedication to channel excellence.
Over the past year, these fearless females have played integral roles in extending CyberArk's market leadership position and empowering CyberArk partner organizations to accelerate growth as they help customers protect against advanced cyber threats and realize the full value of Identity Security:
Cindy Baptiste, Senior Director, Global Partnerships and Channel Sales, CyberArk
As part of her role in defining and executing CyberArk's global go-to-market channel strategy, Baptiste worked cross-functionally to introduce six products to the channel. By delivering a tremendous increase in partner enablement and certifications, her team has helped grow the overall channel business by more than 35% year over year.
Stephanie Novak, Director, Global Partner Programs, CyberArk
With deep expertise in change management and transformation — along with a roll-up-her-sleeves attitude — Novak has brought both competency and capacity to the CyberArk team. By analyzing current program offerings and processes, she's been instrumental in defining key initiatives for the CyberArk Partner Program roadmap — including new enhancements that will roll out this year.
Tonya Vincent, Director, Global Channel Marketing, CyberArk
Keeping partners informed of plans, product innovations and enablement resources is critical to growing an effective channel program. From organizing CyberArk's first global channel partner conference to optimizing its global MDF program, Vincent spearheaded efforts to amplify communication, information sharing and engagement across the CyberArk Partner Network.
Kelly Wong, Channel Process and Technology Manager, CyberArk
Wong's work in designing and implementing channel operational strategies, processes and policies for partners has been integral in optimizing the health of the channel program and back-office functions to enable a best-in-class partner experience.
CRN asked how these Women in Identity Security are bringing comprehensive channel initiatives to life, and what advice they have for women entering the cybersecurity market. Here's just a glimpse at their responses:
As the IT landscape changes rapidly, customers and their buying patterns are also changing. How is CyberArk enabling partner organizations during this shift, so they can maximize opportunities to help their customers secure access across any device, anywhere, at just the right time?
Says Baptiste, "With CyberArk's shift to subscription and SaaS-based delivery, we're providing partners with more opportunities to open their business beyond the transactional space and deepen customer value. To do this, we're helping selling partners become great delivery and managed services providers, as well as co-creators of IP with the CyberArk Identity Security Platform as the underpinning of the Identity Security frameworks they're building for their customers. This puts the focus on delivering successful business outcomes for customers."
What is your advice to partner organizations for maximizing their success in 2022?
Says Novak, "Engage with your Channel Account Manager (CAM) regarding your go-to-market and customer engagement models — whether it's resell, consulting, managed services or a combo to find the right programmatic elements that align with your business models. Focus solutions on delivering business outcomes that create value and drive customer success. To do so, you will need a well-enabled team of sales and technical professionals who can deliver a polished customer experience."
How does hiring play a part in delivering amazing partner experiences?
Baptiste says, "My team's charter is to be the 'easy button' for partners and for the CyberArk Global Channel Organization. We accomplish this by hiring the best people, giving them the freedom to do what they are experts at doing, collaborating on best practices based on collective experience and market trends, and providing a fun and exciting environment which keeps them motivated and driven to continue to build a best-in-class partner experience." She credits her incredible team in the successful rollout of new continuing education modules, which resulted in an impressive 190% year-over-year increase in partner certifications.
What's one thing you love about your job and why?
"The people and culture at CyberArk," says Vincent. "My marketing teammates are the best — not only are they super supportive, but they also have a channel-first mindset. Additionally, the global channel sales organization is top-notch. Filled with experienced leaders and channel account managers, they make my job fun."
What are your secrets for staying focused and finding motivation when you really need it?
"Surround yourself with positive and smart people: teams, friends and family. These people will continue to challenge your mind and give you new perspectives," encourages Wong.
This fearsome foursome closes with advice for women entering the cybersecurity market.
"Don't be afraid to ask for help," notes Baptiste. "Find people you respect and build relationships with them. And go outside of your comfort zone. That's where the magic can happen, and you learn and grow in the most unexpected ways."
"Find your tribe. Reach far and wide in many areas of the business and build strong, lasting and meaningful relationships. It will help you in your current role and also give you access to subject matter experts that you can call when you have questions about how to handle challenges," says Novak.
Look beyond your organization as well, encourages Vincent. "Establish mentors and peers outside of work through LinkedIn and groups like Women of the Channel. This outside network offers great advice, recommendations and support at anytime," she says.
"Always tackle a challenge/problem/issue/task with a positive frame of mind. At the end of it all, you're doing it to make things better for yourself and everyone else," says Wong.
Editor's Note: Answers have been edited for length and clarity. CRN's 2022 Women of the Channel list will be featured in the June issue of CRN Magazine and online at www.CRN.com/WOTC.