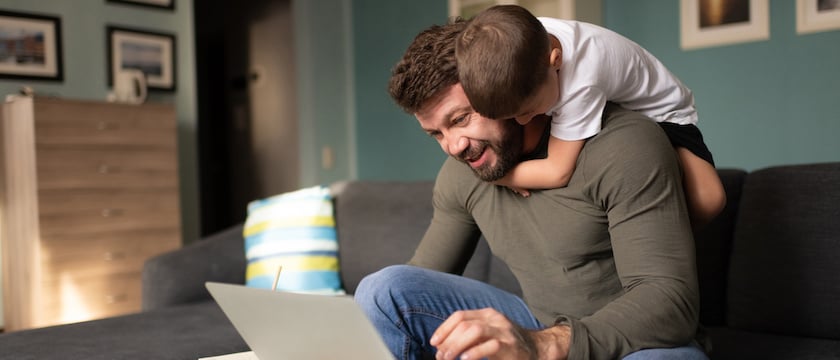 As the meme goes, 2020 has been a long decade – and it certainly feels that way. The global COVID-19 pandemic has upended our sense of normalcy and forced many aspects of everyday life into the confines of home. Where we, in the absence of social gatherings and holiday festivities, now have lots of free time to reflect on the year and, of course, scroll through all those "worst of 2020" memes.
The way we work has also changed dramatically during this year. To check in on how employees are faring after nearly nine months of remote work (aka WFH), we surveyed 2,000 remote employees around the world asking them what they like – and dislike – most about their new working arrangements. Here's a look at some of our findings.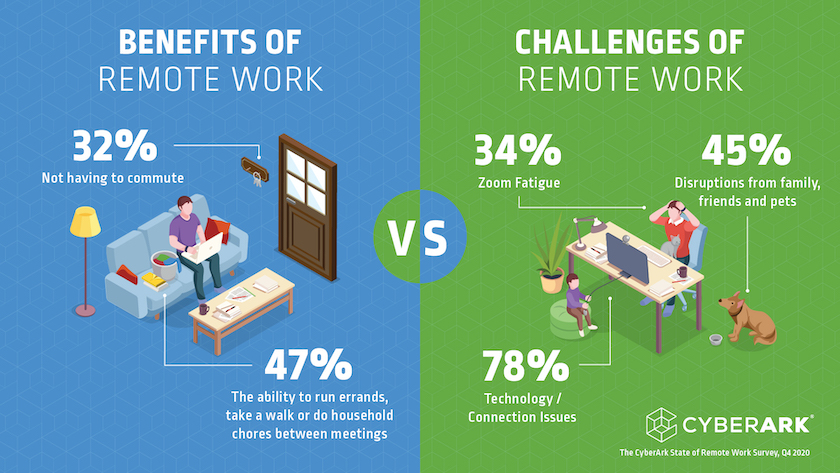 WFH Diary Entry #35. I've logged 50 miles of walking this month during lunch breaks and feel healthy and focused. The extra 45 minutes of sleep each morning doesn't hurt either. Long live remote work!
For many office workers, hectic mornings of school car lines and bumper-to-bumper traffic are but a distant memory. We've settled into new normal(ish) routines, commuting from upstairs to down and bed to desk, ready to take on the workday from the couch or home office.
The shift to remote work has been a big change, but for most people, it's been a largely positive one. Nearly half (47%) feel more productive at home, citing the flexibility to run errands, take a walk or do household chores between meetings. Meanwhile, 32% of remote workers say putting their commutes in park is a key benefit. Plus, it's (basically) a scientific fact that wearing sweatpants while working increases one's overall mood and sense of wellbeing.
With more time and flexibility in their days, it's unsurprising that 95% of employees want to continue working from home even after their offices re-open.
WFH Diary Entry #68. Signing in from the kitchen table – feeling good about today's big meeting. The gang's all here… including the cat who won't get off my keyboard… and a virtual classroom of 20 kindergarteners. What could possibly go wrong?!
Of course, remote work has its downsides (quarantine 15, anyone?). For instance, nearly half of respondents (45%) say disruption from family and pets is their biggest challenge. Anyone who's had to proctor a spelling test while giving a work presentation while frantically muting every other word to muffle their barking dog can relate. And as the lines between work and home blur, always-home and always-on increasingly means always-working. Forty-three percent of remote workers say they struggle to maintain the right work/life balance.
WFH Diary Entry #106: This Zoom meeting could have been an email. Also, my kids are suspiciously quiet right now.
For the first few weeks of remote work, it was sort of fun to connect with colleagues by video. We saw their home offices, "met" their significant others and kids (hopefully not wielding dripping paint brushes), and gushed over their adorable pets. We got creative with elaborate video backgrounds and turned ourselves into virtual potatoes during team brainstorms. But for most people, the novelty wore off quickly. Many working parents are still juggling work meetings and virtual schooling – there is no secret recipe to keep these in peaceful co-existence. And what once was a quick 'swing by someone's desk' to ask a question is yet ANOTHER 30-minute video call. It's no wonder 34% of remote workers cite "Zoom fatigue" as a top challenge.
WFH Diary Entry #112: Have so much to do today but I'm locked out of the system again. IT support ticket says 48 hours… there goes my productive week.
For 78% of employees, working through technical issues like connecting securely to corporate systems and resources is a major hurdle. To stay productive and keep up with work responsibilities, 67% admit to finding workarounds to corporate security policies, from sending work documents to personal email addresses and sharing passwords, to installing rogue applications on company-issued devices.
While these shortcuts may seem harmless, they can potentially open doors for cyber attackers, leading to credential theft, fraud, and costly security breaches. This is why now's as good a time as any to brush up on cybersecurity best practices to protect your own digital persona, along with your employer's. And if you're like 46% of respondents who haven't received remote-work-specific security training, ask about it and do your part to keep safe and secure remote work a viable option for the long run. It's everyone's responsibility to keep safe and secure in our remote and hybrid work environments. Your sweatpants will be glad you did.