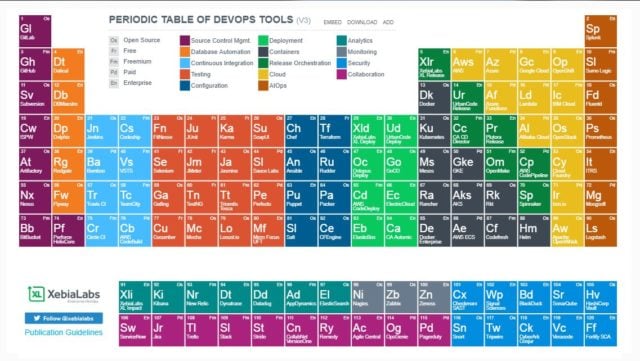 DevOps tools are being released at record pace, and keeping up with the latest – and most effective – can be challenging. The "Periodic Table of DevOps Tools" is an excellent go-to reference to help IT professionals navigate the expanding market. XebiaLabs this week published an updated version of the resource – and spotlights CyberArk Conjur (element CK, number 118) as an integral security tool.
Available as an open source tool and for the enterprise, CyberArk Conjur is a secrets management solution tailored specifically for the evolving infrastructure requirements of native cloud and DevOps environments. The solution incorporates fundamental DevOps security principles, such as least privilege and segregation of duties, to secure and manage secrets used by non-human machine identities—from CI/CD tools to containers to applications to microservices—as well as human users throughout the DevOps pipeline.
CyberArk Conjur integrates with leading DevOps tools including Ansible, Jenkins, Docker, Chef and Puppet, enabling these tools to access and use secrets and credentials managed by CyberArk Conjur. In addition, CyberArk Conjur integrates with the leading platform-as-a-service (PaaS) solutions, including Red Hat OpenShift, Kubernetes (K8S), Pivotal Cloud Foundry (PCF) and Cloud Foundry (CF).
Note: Some integrations are currently only available for CyberArk Conjur Enterprise, see here for details.
With CyberArk Conjur, secrets and credentials can be consistently managed across DevOps environments regardless of the secrets management capabilities of the native DevOps tools or platforms, which can vary significantly and are not always enterprise ready. For example, some native tools are missing critical credential rotation and audit capabilities. Importantly, this solution eliminates "islands of security" created when individual DevOps tools cannot securely share secrets with each other.
Try the Hosted Tutorial for CyberArk Conjur Open Source
It's easy to get started. Check out the CyberArk Conjur Open Source-hosted tutorial for a tour of core secrets management concepts such as storing and fetching secrets, machine authentication and authorization and security policy as code. This is a hosted version of the Conjur Open Source, so as you get started, you'll be asked to answer a few basic questions before you get your API key. If you need help or would like to chat with your peers, join our Slack community.