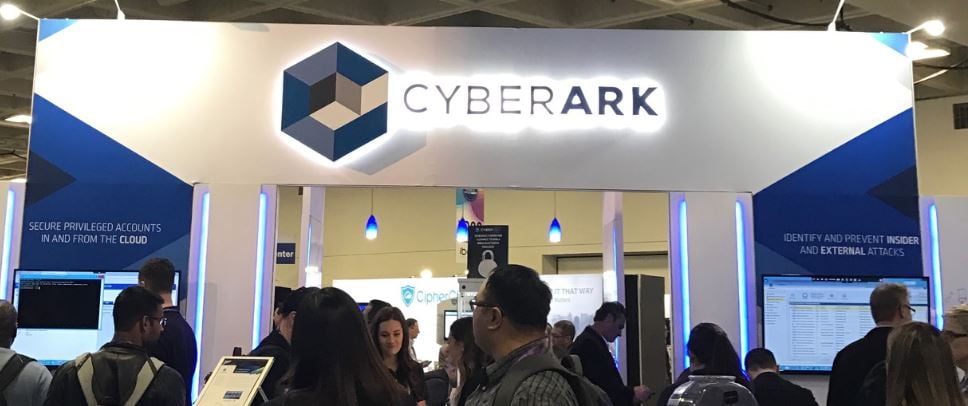 With record-breaking attendance and a jam-packed agenda of thought-provoking keynotes, technical sessions, tutorials and seminars, this year's RSA Conference was not one to miss. Everywhere you turned, there was something new to learn and see—from debating about how artificial intelligence and machine learning could shape the industry's future, to meeting young startups approaching security challenges in interesting new ways, to participating in lively technical discussions with peers and partners. With more than 43,000 people in attendance, I can't help but wonder if, after 26 years, it is time to move the RSA Conference to Vegas!?
Just like the conference, there wasn't a dull moment at the CyberArk booth. After kicking off the show by announcing our new insider threat detection capabilities, we hosted record numbers of attendees for one-on-one demos, small group discussions and partner presentations with several of our C3 Alliance members. Throughout the week, one thing was clear: Organizations have graduated from the education stage and fully understand that privilege is the one constant in the cyber attack lifecycle.
Throughout the week, several buzzwords and hot topics topped the charts:
Insider Threats: An insider who has gained access to privileged credentials can initiate seemingly legitimate privileged user sessions, making it incredibly difficult to detect. Our newly announced capability automatically analyzes all privileged users' session activity to instantly identify high-risk activity and alert security teams to a potential incident before it's too late. By automating this process and detecting more threats faster, organizations can gain an opportunity to disrupt inside attackers—and careless users—before these incidents turn into costly, reportable breaches.
Endpoint: The vast majority of advanced attacks start at the endpoint when attackers breach the perimeter and target credentials. To help organizations better detect and contain cyber attacks, we've combined targeted analytics with proven privilege management and application control capabilities—so that organizations can effectively lock-down privileges on the endpoint without impacting productivity.
Cloud Migration: Accelerated cloud migration requires IT leaders to implement more effective risk management strategies from the start in order to better protect against advanced threats. We can help to eliminate the security gaps across public, private, hybrid cloud and SaaS environments by protecting all privileged accounts—wherever they are.
These topics were also highlighted in Brandon Traffanstedt's RSA session entitled "The Privilege Connection: Cloud, DevOps and Stopping Advanced Threats." During this talk, he outlined best practices for reducing the attack surface by securing privileged accounts across the enterprise—on-premises, in the cloud and on endpoints, as well as privileged credentials used by DevOps automation and orchestration tools.
Rounding out the week was CyberArk CEO Udi Mokady's appearance on the panel, "Meet the Leaders of the Startup Nation." He, along with a panel of industry experts, ex-intelligence officers and leading academics, talked about how Israel became known as the "Startup Nation."
To top it all off, we received an SC Award for Best Identity Management Solution. We couldn't be more proud of our team and are honored to be recognized by the SC Awards for this commitment to innovation and product excellence.
Thanks to our customers, partners and team, RSA 2017 is a show we won't soon forget. See you next year.