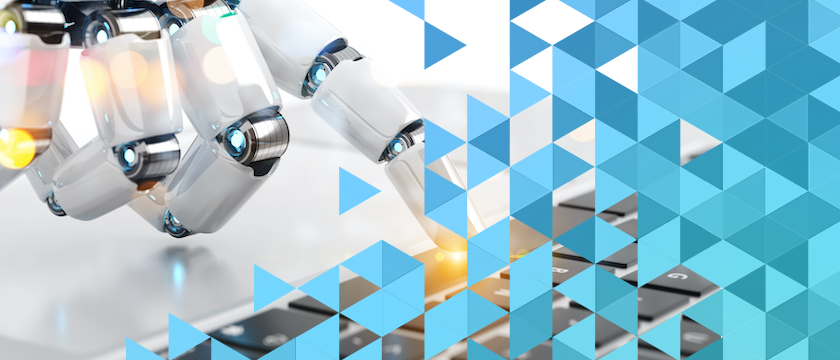 Robotic Process Automation (RPA) is one of the key technologies fueling digital transformation. Ranked by industry experts as one of the fastest-growing enterprise software categories, RPA is helping businesses and their employees achieve the efficiency, accuracy and speed needed to compete and thrive. By approaching RPA automation projects and cybersecurity hand in hand, organizations can deliver enhanced digital experiences safely and quickly to customers.
The Next Technological Disruption in the Enterprise
Over the past few decades, technology innovations have shaped and reshaped our daily lives — in particular, the way we work. RPA is poised to be the next disruptive technology in a series that has revolutionized business as we know it. Let's take a brief look these six distinct technology eras:
1. The mainframe era enhanced computational and transactional capabilities for governments, large businesses and research organizations.
2. Personal computers (PC) brought the power of computers to the broader population and smaller businesses.
3. Graphical user interfaces (GUI) made computers more intuitive, enabling less computer-savvy individuals to use computers and extending usage further in business and society.
4. Then along came the internet, connecting this vast network of computer users together in new and exciting ways.
5. Mobile brought the power of the internet to our fingertips.
6. The cloud gave us new ways to store vast troves of data, driving a boom in artificial intelligence (AI) capabilities.
Today, with better process mapping, the advent of computer vision and the fast growth of AI, the automation-first era is here. And while the technology supporting automation isn't necessarily new, how it's being combined and used is what defines this new chapter.
By utilizing pragmatic AI to drive process automation and digitization, RPA can automate a wide range of knowledge work carried out in today's digital environment with great speed and precision — while allowing humans to focus on higher-value (and often more rewarding) work. RPA systems range widely in scale and complexity, from simple website chat bots that can answer standard queries to deployments of thousands of bots that can automate credit card processing and fraud detection jobs.
Rethinking How We Work with RPA
Though digital transformation has been on the corporate agenda for some time, some organizations are struggling to make the most of their digital initiatives. RPA is helping many companies overcome these challenges, not only by automating manual processes and enabling users, but also by helping teams break through conventional thinking. For example, in the financial services industry, RPA bots are helping to do everything from streamlining manual underwriting processes, reducing fraudulent activity through account monitoring and assisting with new customer onboarding. By adopting RPA technology — even if it's one small-scale project to start — organizations can quickly begin to see how they can apply automation to other areas of the business to their advantage.
When considering how RPA may work best for your organization, first examine the work your team is doing to determine which tasks require human involvement — and which repetitive, manual tasks could be offloaded to robots, such as data entry, transaction processing, response triggering and communicating with other digital systems. It's important to remember that RPA technologies are meant to enhance, not replace, the human workforce. By shifting time and energy away from such low-value, high-volume tasks, employees can focus on ideas, innovation and the best parts of the job that brought them to your organization in the first place.
There are two main types of RPA bots: attended bots that work under human supervision, helping workers do their jobs, and unattended bots that can run without human involvement.
Your organization's evaluation of RPA needs should involve both a top-down approach (to identify and prioritize key areas for automation to maximize ROI) and a bottom-up approach (to empower workers with automation based on their individual needs).
Protecting RPA Initiatives with Identity Security
As with all digital transformation projects, security must be a key consideration from the start of an RPA initiative.
RPA bots and automation processes often require high levels of privilege to do their jobs, from interacting directly with business applications to mimicking human behavior and mirroring human identity and access permissions across multiple systems. This provides attackers with yet another potential way to steal data and cause chaos — particularly the estimated one-third of all RPA deployments running unattended today. For example, if threat actors can get their hands on unsecured RPA admin and bot credentials, they could gain access to critical business systems and data.
By enforcing consistent, traceable Identity Security policies such as automatically rotating privileged credentials, establishing secure connections and placing time limits on access permissions — along with driving automation security awareness across the enterprise —organizations can mitigate the risk of credential-based attacks.
Moving Secure RPA Deployments Forward
As their titles suggest, automation engineers are focused on streamlining or eliminating as many manual processes as possible — and security is no exception. Perhaps the greatest benefit of an identity-centric approach to RPA security is that critical security tasks, such as credential management, can be automated to remove former roadblocks that could slow things down, achieve new levels of operational efficiency and safely scale RPA initiatives faster.
CyberArk's integration with UiPath enables organizations to do just that: improve operational efficiency by automating security function with out-of-the-box integrations.
Learn firsthand how CyberArk Secrets Manager Credential Providers can help your organization increase operational efficiency and improve the security of your UiPath RPA deployments. In this on-demand session from UiPath's Forward IV conference, Brandon Traffanstedt, CyberArk Global Director of Solutions Engineering, joins UiPath's SVP of Product Nic Surpatanu and Global Security and Compliance lead Kevin Mooney to discuss "End-to-End Management, Governance and Security for Your Entire Automation Program." This session explores key considerations for deploying automations on-premises, in private or public clouds and in virtual machines, along with best practices for centrally managing, governing and securing your entire automation ecosystem.