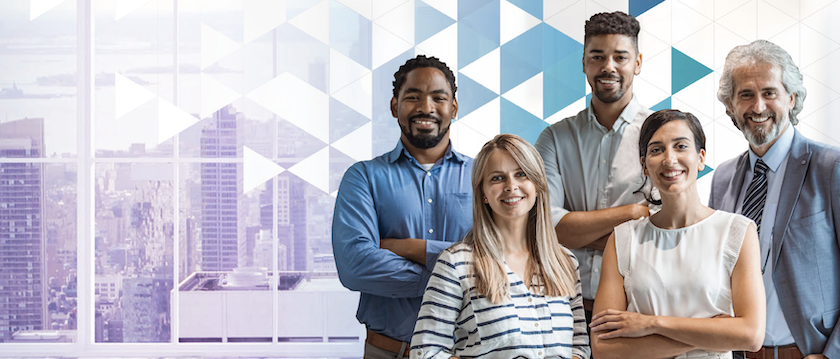 As our digital and physical world change rapidly, Environmental, Social and Governance (ESG) is every business's business. As part of a broader effort to build a more sustainable world, ESG helps us focus our efforts on the key issues that matter to people, demonstrate integrity and build trust, strengthen our communities and help protect our planet.
At CyberArk, the principles of ESG have always been part of our broader strategy and values. Since we formalized our ESG program in 2020, we've continued to build and become more transparent on these principles in key focus areas that matter most to our stakeholders and business.
Milestones from Our Second Annual ESG Report
As Senior Vice President of Investor Relations and ESG at CyberArk, I am honored to share some milestones in our continued ESG journey. You can learn more about these important initiatives and our work to create a more equitable and sustainable company in our 2022 CyberArk ESG report.
Cybersecurity is our business. In our mission to empower customers to move Fearlessly Forward, helping them secure their data is our north star and a clear ESG priority. We have an obligation to uphold the highest standards of security. A few examples of this commitment in action include conducting rigorous internal cybersecurity and data privacy training for approximately 100% of all of our employees, and receiving SOC-2 Type II certification for five of our SaaS solutions.
Our people are our greatest asset, and our culture is one of the key ingredients in CyberArk's success. We achieved an 84% employee satisfaction score — well above industry benchmarks — and were once again recognized as a "Best Place to Work" by Boston Business Journal, reflecting our commitment to creating a community where every voice belongs and feels empowered to be the best version of themselves.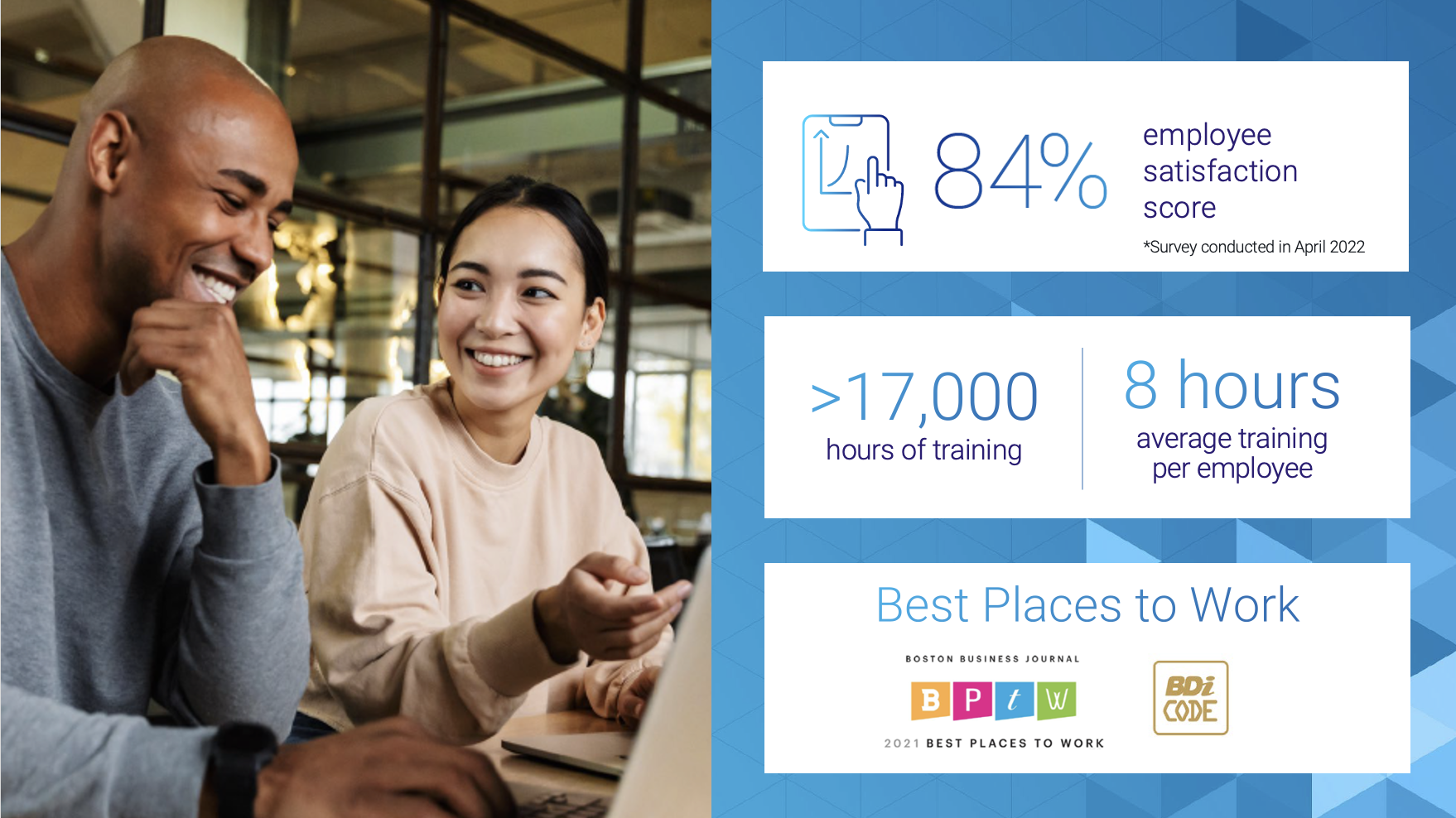 Employee well-being and empowerment extend to ongoing learning, career development and management training programs. In 2021, CyberArk employees logged more than 17,000 hours of training — an average of more than eight hours per person.
We also took important strides in cultivating a more diverse, equitable and inclusive (DE&I) culture and are particularly excited about launching two new employee resource groups (ERGs). CYBR Women is a global community for the incredible women in Identity Security at CyberArk, strengthened by mentorship and training offered through our "Boost Your Career Program," which also launched in 2021. And thanks to the amazing work of CYBR Pride ERG champions, our employees say this growing community of LGBTQIA2S+ and ally members supports "a safe space to share experiences" and "promotes diversity."
We believe that bringing more women into the cybersecurity profession, as well as retaining and elevating more women to leadership positions, is essential to addressing widespread talent shortages and driving continued innovation. This belief is reflected in our hiring practices. We increased our percentage of new female hires to 25% in 2021 from 19% in 2019. Thirty-three percent of our management team is female.
We are proud to be ahead of the cybersecurity industry on key diversity initiatives but also know there's much work to be done. In 2023 and beyond, we will continue to invest in our people, nurture a culture of representation and belonging and help our communities.
We are also working to reduce our impact on the environment. Measuring our carbon footprint was an important first step in understanding where we are today. By completing a third-party Scope 1 and Scope 2 greenhouse gas (GHG) emissions analysis, we now have a baseline measurement and are working on a program to reduce our carbon footprint.
We know that sustainability requires action — especially when it comes to protecting the world's forests, which play a critical role in capturing and sequestering carbon and sustaining millions of people. Committed to doing our part, we've planted 800 trees and counting as part of our new hire and employee recognition programs. Led by our Green Teams, we're learning, exploring and enabling initiatives to keep our business environmentally sustainable.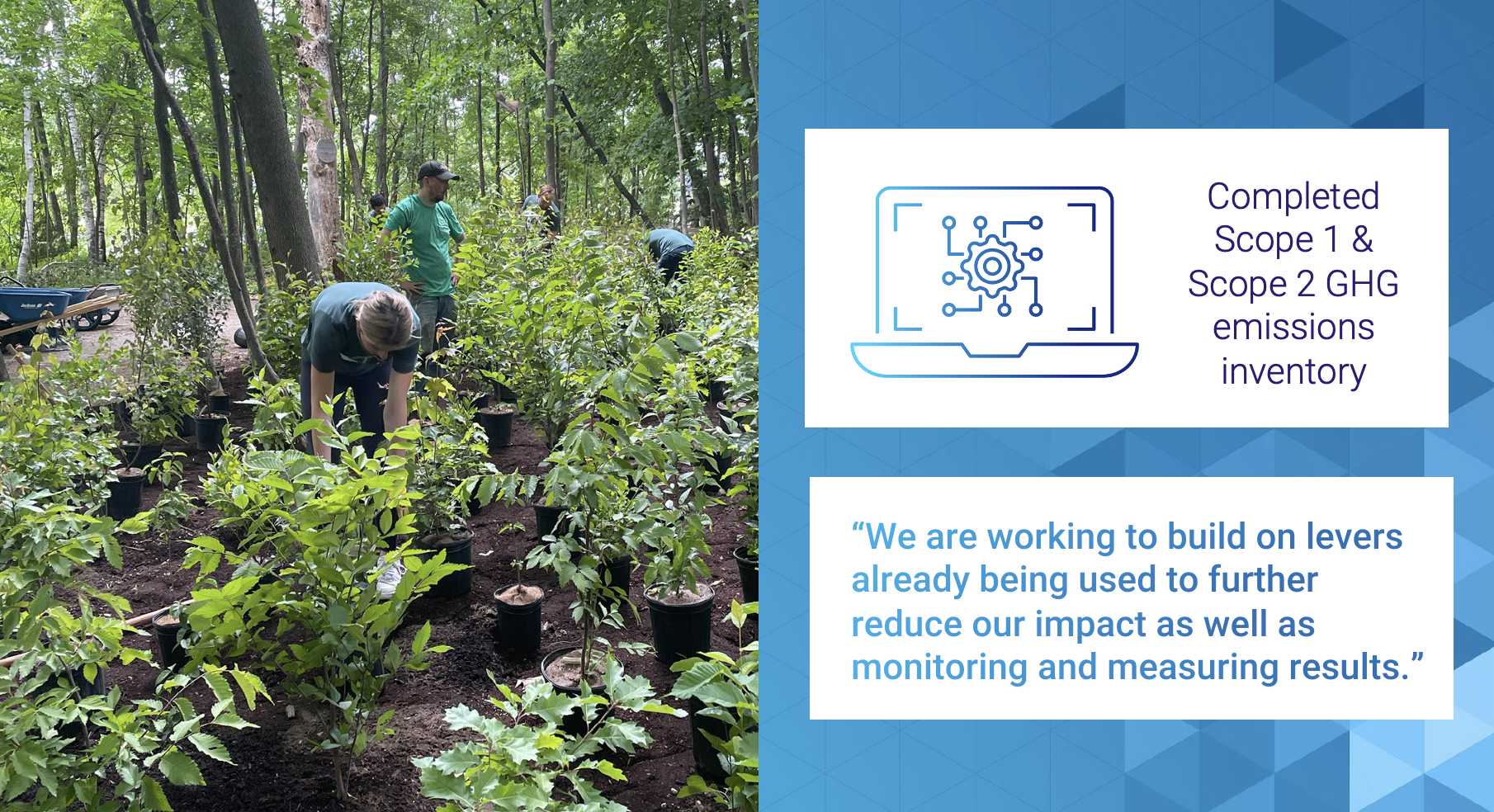 Building ESG Momentum as We Move Forward
ESG is a journey. We're proud of what we've accomplished as a team and are energized by the initiatives we're tackling today to make a strong impact. It's also gratifying to see three leading independent ESG ratings agencies give CyberArk high marks for our progress. An "AA" rating from MSCI ESG Ratings, a "Low Risk" rating from Sustainalytics and a "Prime" rating from ISS ESG position CyberArk as one of the top performers in our industry in managing the most significant ESG risks.
We know that embedding ESG into our decision-making and operating rhythm will only strengthen our ability to move businesses Fearlessly Forward and enhance value for CyberArk employees, customers, partners, investors and others who rely on us.
Data is key to making measurable progress and enhancing transparency. We're building a strong foundation on which to grow by establishing ESG-related key performance indicators (KPIs), setting goals to hold ourselves accountable and enhancing our governance and compliance processes.
We encourage you to read the full ESG report and value feedback as we move fearlessly and sustainably forward.