October is National Cybersecurity Awareness Month (#NCSAM). Now in its 17th year, the month-long event promotes cybersecurity best practices and resources to help citizens stay safe and secure online.
This year's theme, "Do Your Part. #BeCyberSmart," reminds us that cybersecurity is a shared responsibility and we each have a role to play. Everyone should visit the Cybersecurity and Infrastructure Security Agency site to brush up on tips for securing their digital profile – from picking strong passwords and safeguarding connected devices with multi-factor authentication (MFA), to securing home networks and keeping software up to date.
Businesses must also do their part to make the digital world a safer place for customers, employees and partners. This begins with protecting access to their critical enterprise assets.
Most targeted cyber attacks today follow a similar pattern. Attackers find privileged credentials – those that provide elevated access and permissions – and use them to gain access to an organization's most valuable systems and information. That's why it's so important to manage and secure these powerful privileges for human, application and machine users with privileged access management.
Like many technology terms, privileged access management doesn't exactly role off the tongue, so it has an acronym to make things easy: "PAM." This inspired a special addition to the CyberArk family to help us promote National Cybersecurity Awareness Month.
We're proud to introduce "Pam," our cybersecurity heroine and fearless purveyor of privileged access management who fights the good fight and helps you stay one step ahead of attackers. Throughout the month, you'll see Pam pop up on our social media channels, providing tips and practical advice. Be sure to follow us on Twitter, LinkedIn and Facebook so you don't miss a beat.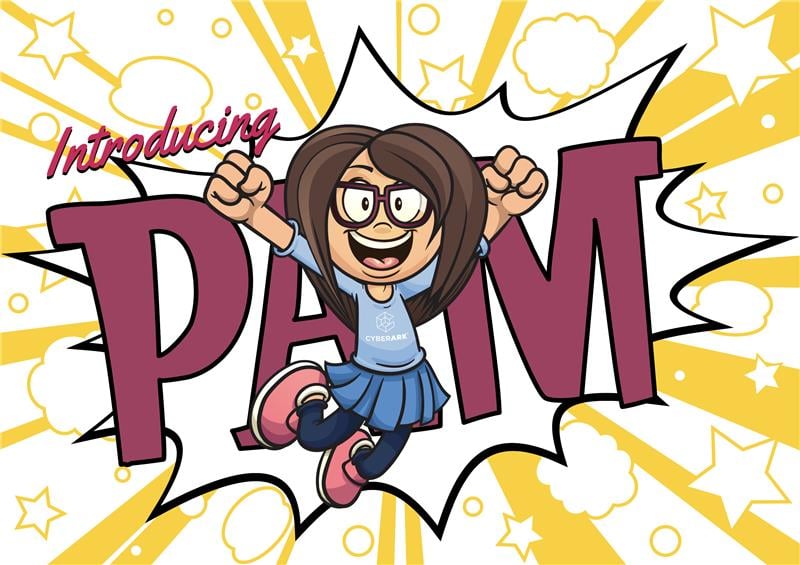 To start, here's a look at two reasons why your organization should join forces with Pam this National Cybersecurity Awareness Month.
Pam is All About Maximum Security
In modern organizations, privilege is everywhere – in the cloud, on endpoint devices, in applications, within automated processes, and throughout the DevOps pipeline. As digital transformation initiatives accelerate and more workloads and applications move the cloud, the number of privileged credentials continues to grow exponentially.
Obtaining privileged credentials is a top priority for malicious insiders and external attackers, as it provides the access needed to reach critical systems and accomplish evil missions, from disrupting business, to stealing digital currency, valuable intellectual property or sensitive customer data.
That's where Pam comes in. She saves the day by securing the privileged pathways most traveled in attacks. She's street-wise, savvy and knows it doesn't take advanced techniques for attackers to establish a foothold – especially in the era of remote work where employee endpoints are plentiful targets.
For her, endpoint security is only part of the solution. She understands effective cybersecurity requires multiple layers of defense to defeat adversaries. Nefarious characters will find a way in, but when they do, she'll be ready with a host of superpowers up her sleeve to stop attacks before they stop business.
Pam Never Backs Down From a Challenge. She Can Help You With Yours
Along with her many superpowers, Pam gives expert advice on everything from technology choices to process enhancements and effective organizational change management strategies.
She helps organizations get started with privileged access management by identifying exactly where their biggest risks exist, then helps business leaders know where to focus their efforts, how to measure progress and drive accountability.
She'll tell you that an incredible PAM strategy makes it simple for everyone to do the right thing. By implementing automated, centralized and proactive controls, organizations can stop cyber criminals in their tracks.
Do your part by prioritizing privileged access management. Whether you're just getting started or maturing your program, Pam is the defender your organization needs right now. Follow CyberArk on social and get ready to meet the next cybersecurity superhero.